Coaching writers and creatives to discover world changing purpose in their message, find focus, and make a plan – all without burning out!
Are you unsure of where to start to share your message?
Do you know where you're going as a writer, creator, influencer?
Is there a hurdle or mindset you need to overcome?
Are you going to take your craft seriously and choose to move forward?
If you answered yes to even one of these, I'm here to help you. I want you to make a difference in the world with your message and art. Become more fully alive as you write, create, and share what has been given to you.
Coaching Creatives
I know what it feels like to look at a blank page and have all my creative juices evaporate. Or the opposite–have forty-eight content ideas all vying for my attention, unsure of where to focus.
Whether you are a creative influencer, writer, podcaster, speaker or artist, I've shared your struggle.
You have a message is because the world needs to hear it! But often that doesn't go as planned. Finding our voice, clarifying our messages, discovering our audience, branding, marketing, and even practicing our craft have huge hurdles. That isn't even mentioning how our identity is tied to our creative practice!
Hope*Writers Coach
It took me over six months to complete a co-active coaching cohort program with Hope*Writers to learn to work specifically with creatives. There is a reason they advertise us by stating, "Say goodbye to overwhelm and finally make progress."
We'll create a safe space for you to be gently challenged and guided to clarify your next steps as a writer.
You can read the rest of my Hope*Writers coaching philosophy here and you can learn about Hope*Writers Coaching here.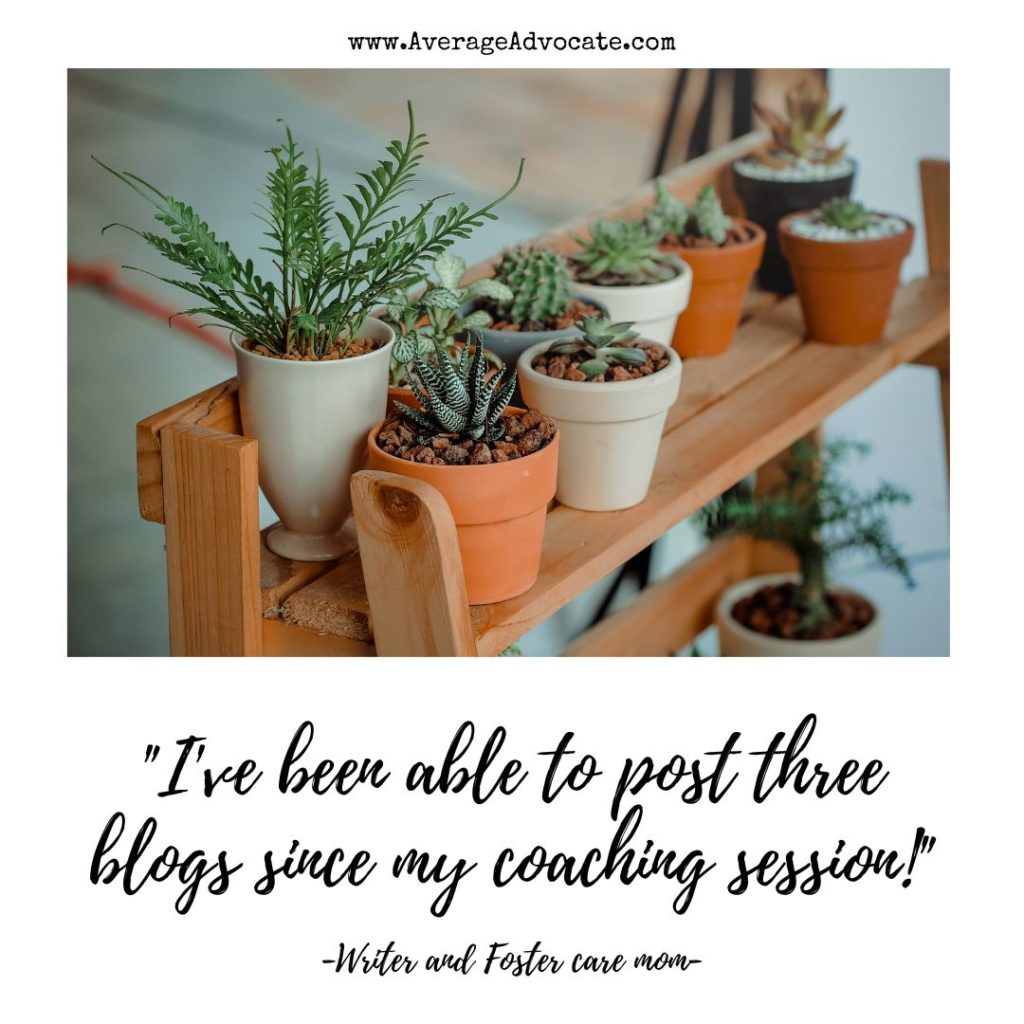 Beyond consistently writing as a blogger for seventeen years–twelve of which have been focused on activism, I've self-published workbooks and written for publications. Speaking, interviews, and starting nonprofits and communication teams has also added to my communications experience. Many "flops," plus two decades of ministry and pastoring, being a parent, and coaching changemakers for the last five has prepared me to serve you.
Instead of feeling apathetic, unsure, or frustrated, at the end of each coaching session you will feel like you are finally moving forward. I am determined to help you feel confident knowing what direction you're headed in what steps you will take to carry out your vision. I've got your back!
Coaching FAQ:
How do I offer sessions?
Weekly, biweekly, or monthly sessions one session (paid for one at a time)
Package of 6, 9, or 12 sessions (less expensive)
Coaching intensives (long sessions)
Coaching scholarship (one-at-a-time sessions)
In-person in a public location (San Diego)
Virtually over Zoom, Google Meet, or Facebook Messenger
What will our coaching experience be like?
As needed, a discovery conversation to get a feel for whether we like each other
Scheduled meetings with me
Short overview of the coaching relationship
Intake questions to help me know how to help
Most sessions will use the C-A-R-I-N-G co-active coaching model–this mostly means I ask you a lot of questions and guide you through a process
Each meeting will end with the next steps and goals that you choose
Availability through short emails and text
As needed, tools, worksheets, and referrals to developmental tools
Encouragement and support along the way!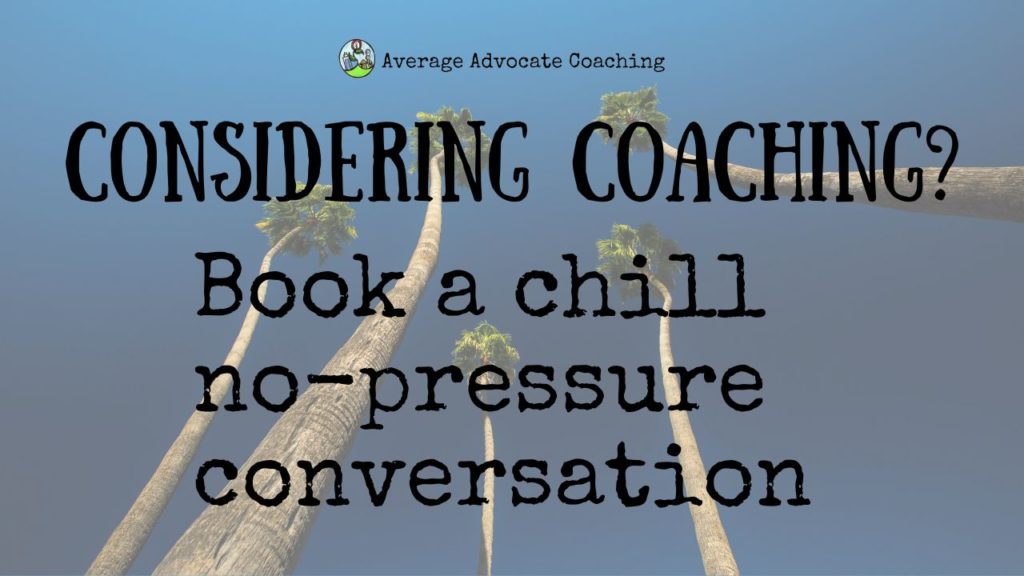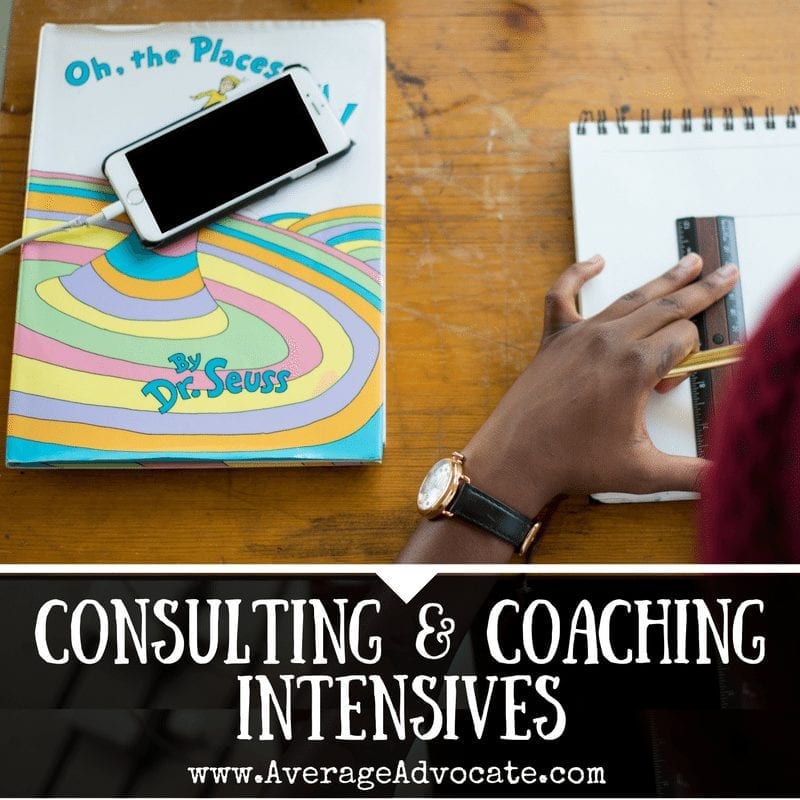 Coaching Consulting Intensives
For those starting a creative business based on communicating a message, a combo of a coaching consulting session might be in order. Here I can teach you from the ground-up how to start your speaking business, podcast, or plan for becoming a published author. Alternatively, we can pivot what you've already started to move forward, such as starting an online presence for your business or nonprofit. This is good for those who want to brand, start a blog, get the in's-and-out's of the business of your craft.
What to expect:
The intensive starts like a normal coaching session (look at the description above).
These meetings usually run for 2 hours, sometimes more.
You will be sent follow-up notes, resources, your plan of action, and any referrals.
After one month, I'll check in with you via email or text to encourage you onward!
In the intensive, you are invited to pick my brain, we will brainstorm, and I will help you take a huge step in the direction you want to go. If you have a vision or idea of what you want to do, I will help you flesh it out, provide feedback, wisdom, and make a plan to bring it to fruition!
Coaching intensives are thrilling to be part of, because throughout the meeting something new and needed in the world will be birthed!
Here are Other Services I Offer:
How I Can Help You:
There are lots of ways I can empower you as a coach, but here are some. I help you…
Gain clarity on a problem or project in your writing/art/message
Recognize and overcome hindering mindsets
Look at things from a different angle and perspective
Find accountability
Be given encouragement and support
Make goals that work for you
Discover your ideal reader/consumer
Decide how you want to share your content
Find methods to interact with social media in a healthy way
Brainstorm and plan
Am I the right coach for you?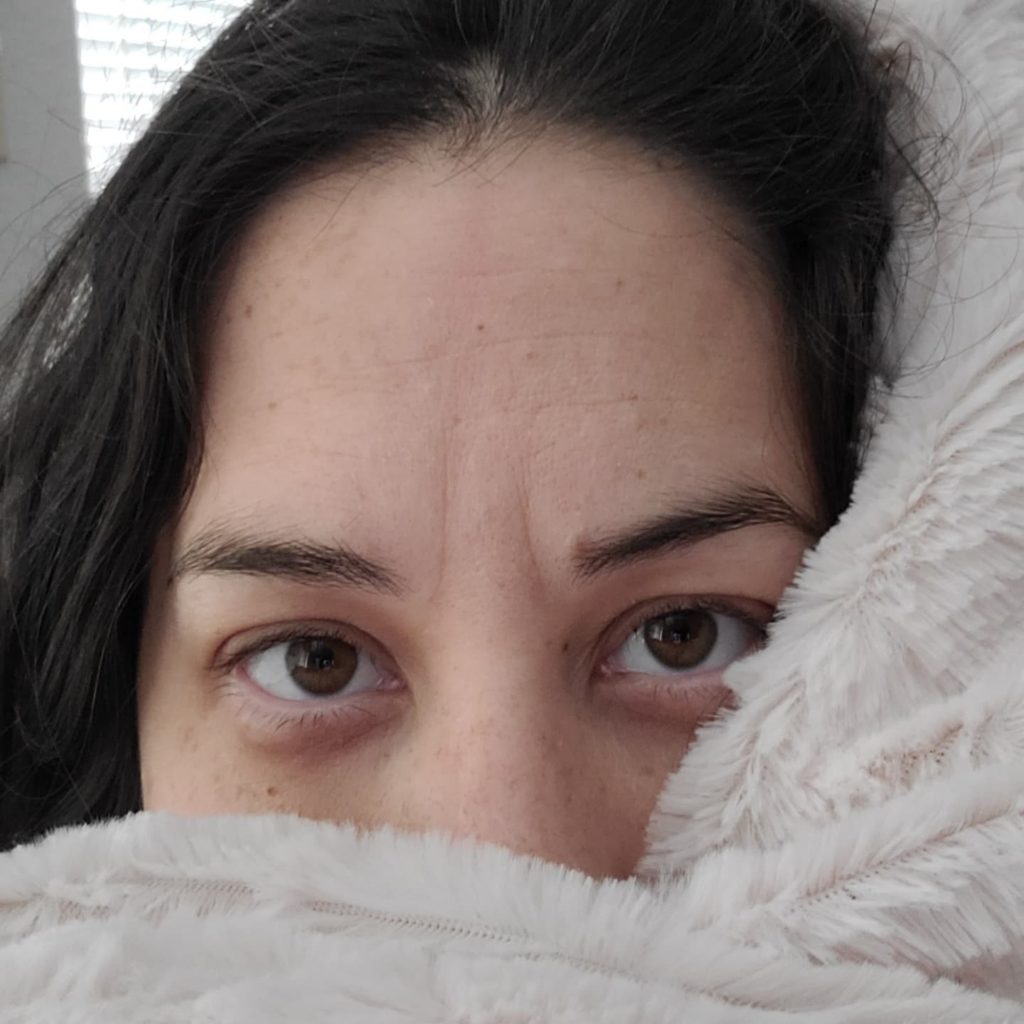 After burning out, my own life changed when I started implementing coaching practices. Then my writing and online business also became more enjoyable, effective and focused when I began receiving coaching as a writer. It was a huge step for me to even invest any money in my passion, first with a few courses and tools. Then later group coaching, a writers community, and one-on-one coaching. I am not disappointed in the path I took, but I frequently wonder where I would be now if I chose to partner with others sooner.
As a synergist, working with others empowers me greatly to move forward myself. When I coach other communicators, influencers and writers, I hope to do the same for them. I believe the collaboration we move into can be vital.
The slow journey of becoming a successful communicator–as well as my strengths as a natural entrepreneur, innovator, visionary and connector have shaped me into a unique coach to walk alongside others. As an Enneagram 7 I tend to pivot well because I enjoy new ideas, discovering all the things, and I can easily find the positive perspective. However, through challenge, I have also learned to walk the long path, coming alongside others in empathy and encouragement to give them hope.
I have been writing since childhood and started my first blog in 2005. I have been writing ever since at multiple blogs, the longest here at Average Advocate. I have written poetry, participated (and "won") NaNoWriMo twice–once for a fiction novel and once for non-fiction. I have developed multiple communications teams and spent many years overcoming the impostor syndrome as a writing creative as well as the competition mindset that often plagues writers. I am also a certified writers coach through Hope*Writers, through their intensive, co-active coaching program
---
Thank you for considering me as your coach! BOOK A FREE, NO PRESSURE DISCOVERY CALL TODAY (click here) or contact me to see if we are a good fit. (Also, as I like to just get to know people, this will be fun regardless!)
---
I can guarantee that if you move forward in coaching, you can expect to be transformed.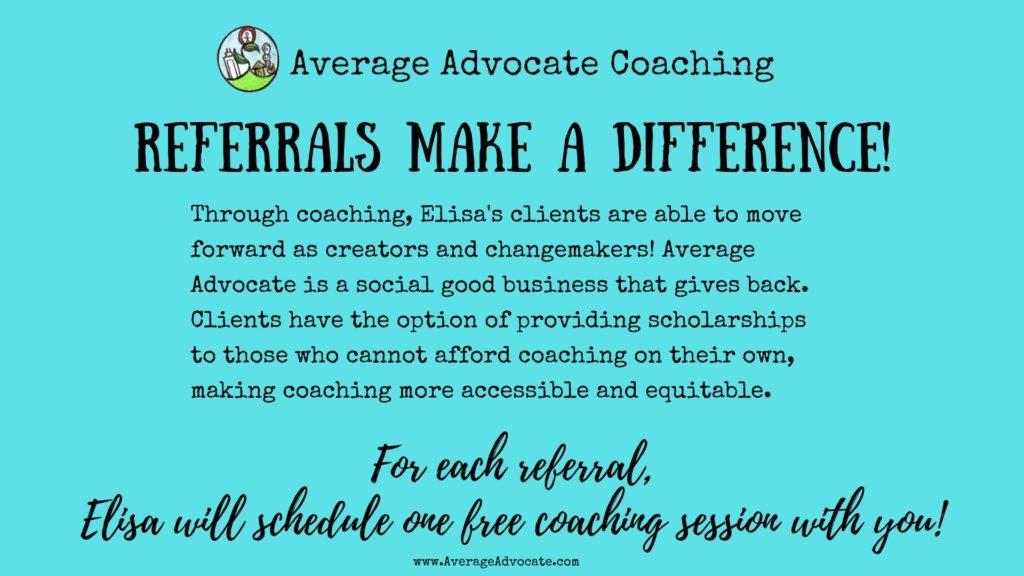 Coaching Fees
Your discovery session is free! Coaching sessions are based on a sliding scale as follows:
Professional rate: $120 per session (helping me provide lower rates for those who cannot afford the coaching they need)
Regular rate: $85 per session (for those who are able to pay the regular rate)
Scholarship rate: Pay what you can (based on availability and others paying the full rate)
Coaching Consulting Intensives are priced at $325.
Starting Coaching
Set up a "discovery" call or meeting (usually takes about 1/2 hr) to see if we are a good fit on Calendly (it doesn't matter if your session time is different than the hour listed) or contact me if these times don't work.

NO PRESSURE TO BOOK–I HATE THAT!

Purchase a coaching session, package or intensive on Square or via Paypal.me/AverageAdvocate
Book your first session (please note what type of coaching/consulting it is) on Calendly (it doesn't matter if your session time is different than the hour listed) or contact me if these times don't work
Schedule time with me
Coaching Polices
Coaching sessions are approximately 50-55-minutes long.
They must begin being used within four months of purchase.
I reserve the right to refuse service or end our coaching contract without explanation with a refund for unused session (except in the cases below). I can also reschedule up to the evening before.
Cancellation/Reschedule/No-Show: Please make every effort to show up to your coaching session on time and prepared because you value your progress. But life happens. If you must reschedule your session, please tell me the night before your appointment or 24 hrs in advance. If you do not provide notice 24 hrs in advance/night before and miss your session or if you are late by over fifteen minutes, you may reschedule but not be refunded. The second time it happens, in addition, you will not be able to reschedule.
Coaching packages are refundable for unused sessions within 60 days. However, if you don't follow the above cancellation policy, you will still be charged $100 + used sessions. The remainder of usuused session will be refunded.
All other policies are in our coaching contract. You must agree to this contract to before beginning your sessions.