Discover world-changing purpose, find focus, and have a plan – all without burning out!
Are you unsure of where to start? Do you know who you want to be? Is there a hurdle you want to overcome? Are you ready to move forward already?
I'm here to help you make a difference in the world and become more fully alive.
Beyond consistently writing as a blogger for seventeen years–twelve of which have been focused on activism, I've self-published workbooks and written for publications. Speaking, interviews, and starting nonprofits and communication teams has also added to my communications experience. Many "flops," plus two decades of ministry and pastoring, being a parent, and coaching changemakers for the last five has prepared me to serve you.
Instead of feeling apathetic, unsure, or frustrated, at the end of each coaching session you will feel like you are finally moving forward. I am determined to help you feel confident knowing what direction you're headed in what steps you will take to carry out your vision. I've got your back!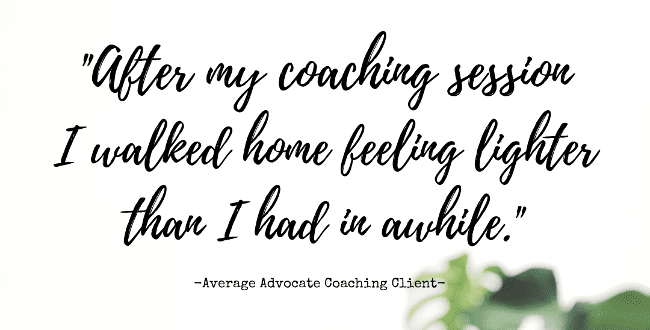 Coaching FAQ:
Would you benefit from a coach?
---
Would an outside perspective encourage you as you become a world changer?

Do you have a vision/passion but you don't know how to transform it into something tangible?

Are you a burnt-out do-gooder who needs someone to walk with you as your recover and reorder to focus on what you really want to?

Does your business, church, community, or organization need someone to provide vision, direction and management to accomplish a specific advocacy project or objective?
If you answered yes to any of these questions, advocacy consulting or coaching is for you.
---
What is the difference between coaching and consulting?
---
Coaching and consulting have different methods of practice. Coaching is usually focused on helping an individual or team become better–via their own choices. Consulting is more like getting advice and expertise.
Because of the social good-leadership field I help people in, it isn't uncommon for individuals and groups to need guidance in both of these areas. As such, my services often overlap and include elements of both coaching and consulting, but are leaning on one side or the other.
As we work together I try to be clear about what role I am playing as we move forward. For example, if you are doing life-coaching with me and are asking for advice on world-changing things you are doing, I will confirm I am acting more as a consultant at the moment, just to make sure my feedback is something you are interested in. Alternatively, while consulting on a project, I might ask questions or prompt you through your goals like a coach would.
Read more about the differences below:
---
---
How is Coaching Different from Counseling or Consulting?
---
Coaching is more focused on the growth and vision of an individual.
I employ life-coaching methods to helps clients get to a place where they feel like they know what their best world-changing role is, and how to overcome whatever is hindering them from being fully alive. I provide accountability in conjunction with a life-mapping framework. I will use structure to guide us and meet our objectives, concentrating on the areas my clients need the most accountability and encouragement in. I also utilize co-active life-coaching strategies to help individuals uncover their best path forward, rather coming with the assumption I always know what is best for them. My goal is to provide feedback in a safe environment, balancing invitation and challenge.
My expertise has developed through fifteen years of organizational leadership, mentoring, lay-counseling experience, combined with applied coaching educational resources and training I've completed.
Social Good Consulting (For Projects & Orgs)
Consulting is for non-profits, grassroots movements, organizations, businesses, & personal projects to help refine vision, develop leadership, create organization and make a plan to move forward in your mission to love others and change the world. If this is what you need (vs. coaching) please go to the link below to learn about my consulting services:
LEARN MORE ABOUT SOCIAL GOOD CONSULTING
---
How I Can Help You:
There are lots of ways I can empower you as a coach, but here are some. I help you…
Gain clarity on a problem or project in your life
Recognize and overcome hindering mindsets
Look at things from a different angle and perspective
Find accountability
Be given encouragement and support
Make goals that work for you
---
---
Am I the right coach for you?
---
After growing-up seeped in community efforts, public ministry, and non-profit work, then spending the majority of my adult life working as an advocate–I have reached a place where my experience and knowledge is now helpful to others.
I have a degree in the social sciences with a concentration on cultural anthropology, which I've continued to build-on over the last five years through continual research on global issues and following the experts and NGOs working on these issues.
In addition, I have been trained in forms of lay counseling, have walk with trauma survivors through their healing, and am well-read on various mental disorders and therapies. I have done a life-coaching training and am well-read on practices.
But my life experience rather than head knowledge is likely even more valuable to you. Not only have I been a continual participant and have been mentored in the workings of outreach through my whole childhood, but as an adult I've lived this life. First as a missionary, then as church staff, and following that, the coordinator for a community organization and leader and director in various ministries over the years, as well as a leadership trainer. I also was part of forming one non-profit in Northern Virginia and another one in California for our annual global advocacy project, Blackout Trafficking.
Through all of this, I've been asked to advise others on their own projects, and learned how to coach through assisting others.
Not to be forgotten, my own transformation–through mistakes and discovering who I am–as well as my strengths as a natural entrepreneur, innovator, visionary and connector have shaped me into a unique consultant and coach to walk alongside others.
---
Thank you for considering me as your coach! BOOK A FREE, NO PRESSURE DISCOVERY CALL TODAY (click here) or contact me to see if we are a good fit. (Also, as I like to just get to know people, this will be fun regardless!)
---
---
I can guarantee that if you move forward in coaching, you can expect to be transformed.