-Coaching changemakers to make a difference without burning out-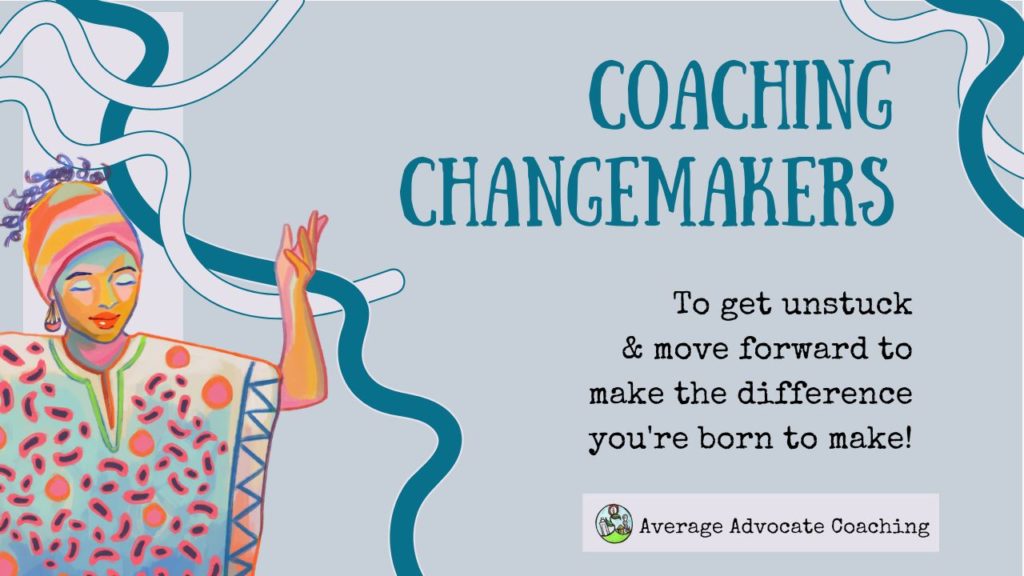 Whether you are looking for purpose in your everyday life, feel cemented by anger at injustice, want to bring your vision of hope to reality, or are a nonprofit or ministry leader, coaching releases everyday changemakers to change the world!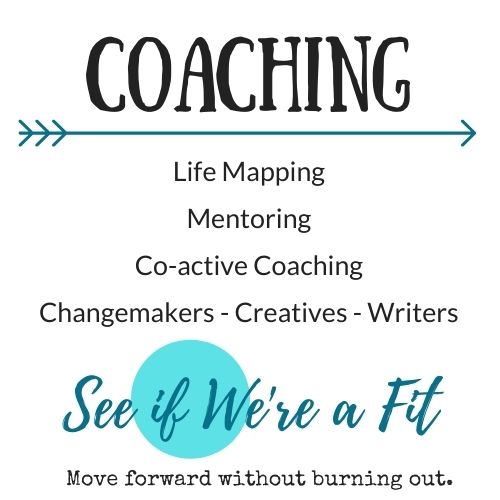 Coaching Changemakers
If you don't want to ride with the tide, but dream of living a significant life, making an impact, and living life on purpose, this type of coaching is for you.
Through this life-coaching model, we will make a plan to help you move past what holds you back, find and discover the unique gifts that you bring to the table, clarify your vision, and find a role for your passion.
And we won't forget a plan! From creating actionable goals to managing how you spend your time and scheduling, you'll create a path unique to you!
Are you unsure of where to start?
Do you know who you want to be?
Is there a hurdle you want to overcome?
Are you ready to move forward already?
Beyond consistently writing as a blogger for seventeen years–twelve of which have been focused on activism, I've self-published workbooks and written for publications. Speaking, interviews, and starting nonprofits and communication teams has also added to my communications experience. Many "flops," plus two decades of ministry and pastoring, being a parent, and coaching changemakers for the last five has prepared me to serve you.
Instead of feeling apathetic, unsure, or frustrated, at the end of each coaching session you will feel like you are finally moving forward. I am determined to help you feel confident knowing what direction you're headed in what steps you will take to carry out your vision. I've got your back!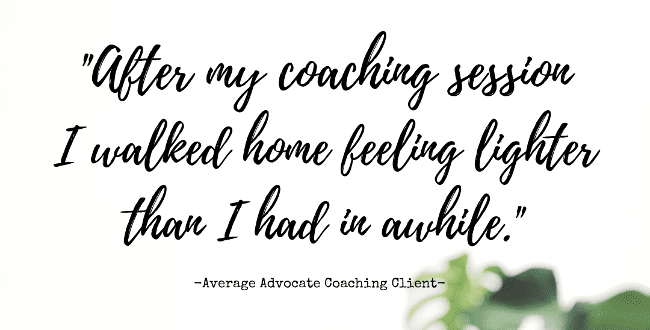 Coaching FAQ:
How do I offer sessions?
Weekly, biweekly, or monthly sessions one session (paid for one at a time)
Package of 6, 9, or 12 sessions (less expensive)
Coaching intensives (long sessions)
Coaching scholarship (one at a time sessions)
In-person in a public location (San Diego)
Virtually over Zoom, Google Meet, or Facebook Messenger
What will our coaching experience be like?
As needed, a discovery conversation to get a feel for whether we like each other
Scheduled meetings with me
Short overview of the coaching relationship
Intake questions to help me know how to help
If we are Life Mapping, we will start with a combo of co-active coaching and overview of Life Mapping
Most sessions will use the C-A-R-I-N-G co-active coaching model–this mostly means I ask you a lot of questions and guide you through a process
Each meeting will end with the next steps and goals that you choose
Availability through short emails and text
As needed, tools, worksheets, and referrals to developmental tools
Encouragement and support along the way!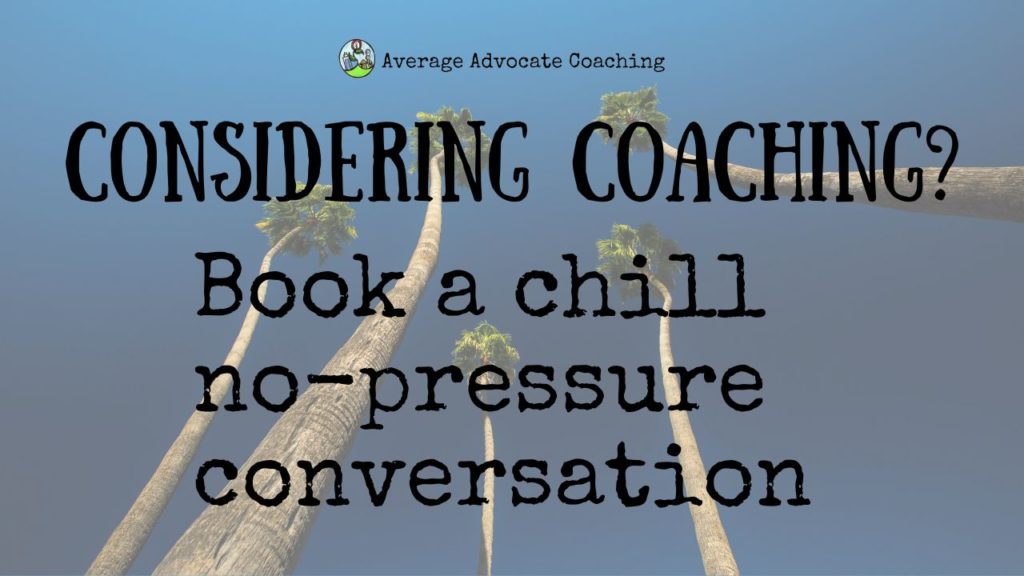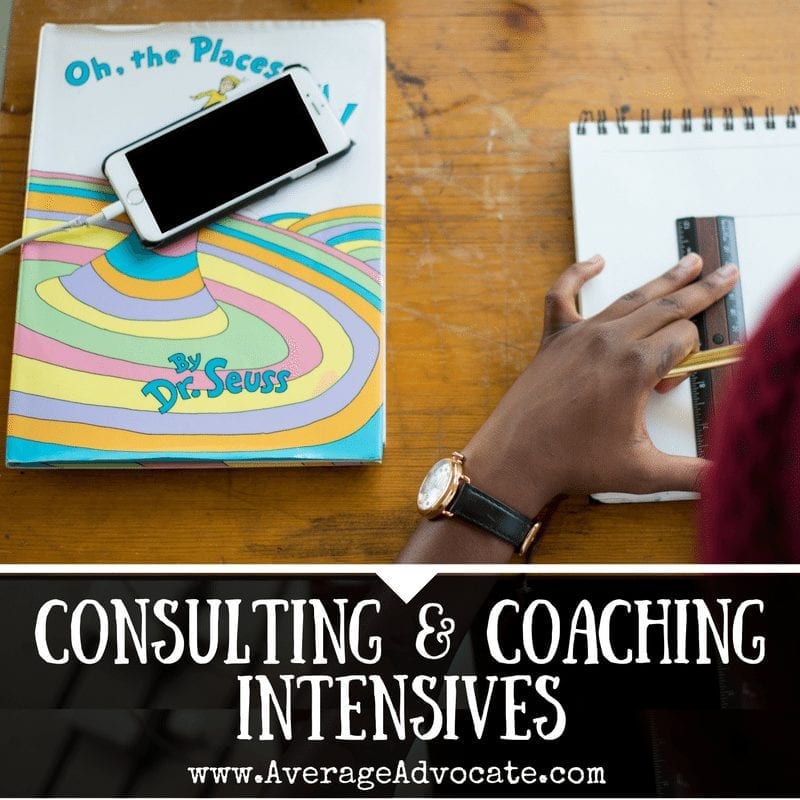 Coaching or Consulting Intensives
These are 2-4 hour meetings (or calls) for those who already have a vision and idea for what they want to do, but just need someone to help them flesh it out, provide feedback and wisdom, and plan out steps to make it happen!
Coaching intensives are thrilling to be part of, because throughout the meeting something new and world-changing will become ready to be born!
In addition to the coaching intensive, you will be sent follow-up notes, your a plan, and any necessary referrals.
Would you benefit from a coach?
Would an outside perspective encourage you as you become a world changer?

Do you have a vision/passion but you don't know how to transform it into something tangible?

Are you a burnt-out do-gooder who needs someone to walk with you as your recover and reorder to focus on what you really want to?

Does your business, church, community, or organization need someone to provide vision, direction and management to accomplish a specific advocacy project or objective?
If you answered yes to any of these questions, advocacy consulting or coaching is for you.
What is the difference between coaching and consulting?
Coaching and consulting have different methods of practice. Coaching is usually focused on helping an individual or team become better. There are lots of questions asked and little to no-advice given in co-active coaching. Coaching helps you wherever you start, through a processing funnel that helps you prioritize, figure out what it hindering you, how to get past obstacles and make actionable goals. Coaching is largely led by you.
On the other hand, consulting is getting advice and direction. You tap into my expertise so you can move forward much quicker than you would having to figure it all out on your own. 
Because of the social good-leadership field I help people in, it isn't uncommon for individuals and groups to need guidance in both of these areas. As such, my services can overlap and include elements of both coaching and consulting, but are leaning on one side or the other.
As we work together I try to be clear about what role I am playing as we move forward. For example, if you are doing life-coaching with me and are asking for advice on world-changing things you are doing, I will confirm I am acting more as a consultant at the moment, just to make sure my feedback is something you are interested in. Alternatively, while consulting on a project, I might ask questions or prompt you through your goals like a coach would.
How is Coaching Different From Counseling/Therapy?
LEARN MORE ABOUT SOCIAL GOOD CONSULTING
---
How I Can Help You:
There are lots of ways I can empower you as a coach, but here are some. I help you…
Gain clarity on a problem or project in your life
Recognize and overcome hindering mindsets
Look at things from a different angle and perspective
Find accountability
Be given encouragement and support
Make goals that work for you
Am I the right coach for you?
After growing-up seeped in community efforts, public ministry, and non-profit work, then spending the majority of my adult life working as an advocate–I have reached a place where my experience and knowledge is now helpful to others.
I have a degree in the social sciences with a concentration on cultural anthropology, which I've continued to build-on over the last five years through continual research on global issues and following the experts and NGOs working on these issues.
In addition, I have been trained in forms of lay counseling, have walk with trauma survivors through their healing, and am well-read on various mental disorders and therapies. I have done a life-coaching training and am well-read on practices.
But my life experience rather than head knowledge is likely even more valuable to you. Not only have I been a continual participant and have been mentored in the workings of outreach through my whole childhood, but as an adult I've lived this life. First as a missionary, then as church staff, and following that, the coordinator for a community organization and leader and director in various ministries over the years, as well as a leadership trainer. I also was part of forming one non-profit in Northern Virginia and another one in California for our annual global advocacy project, Blackout Trafficking.
Through all of this, I've been asked to advise others on their own projects, and learned how to coach through assisting others.
Not to be forgotten, my own transformation–through mistakes and discovering who I am–as well as my strengths as a natural entrepreneur, innovator, visionary and connector have shaped me into a unique consultant and coach to walk alongside others.
---
Thank you for considering me as your coach! BOOK A FREE, NO PRESSURE DISCOVERY CALL TODAY (click here) or contact me to see if we are a good fit. (Also, as I like to just get to know people, this will be fun regardless!)
I can guarantee that if you move forward in coaching, you can expect to be transformed.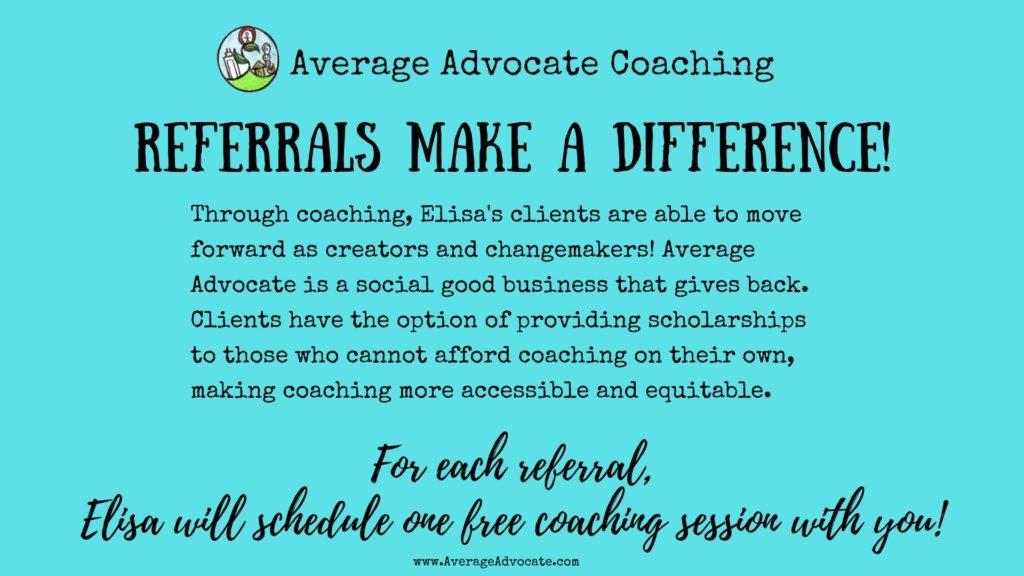 Coaching Fees
Your discovery session is free! Coaching sessions are based on a sliding scale as follows:
Professional rate: $120 per session (helping me provide lower rates for those who cannot afford the coaching they need)
Regular rate: $85 per session (for those who are able to pay the regular rate)
Scholarship rate: Pay what you can (based on availability and others paying the full rate)
Coaching Consulting Intensives are priced at $325.
Starting Coaching
Set up a "discovery" call or meeting (usually takes about 1/2 hr) to see if we are a good fit on Calendly (it doesn't matter if your session time is different than the hour listed) or contact me if these times don't work.

NO PRESSURE TO BOOK–I HATE THAT!

Purchase a coaching session, package or intensive via Venmo, on Square or via Paypal.me/AverageAdvocate, or by check.
Book your first session (please note what type of coaching/consulting it is) on Calendly (it doesn't matter if your session time is different than the hour listed) or contact me if these times don't work
Schedule time with me
Coaching Policies
Coaching sessions are approximately 50-55-minutes long.
They must begin being used within four months of purchase.
I reserve the right to refuse service or end our coaching contract without explanation with a refund for unused session (except in the cases below). I can also reschedule up to the evening before.
Cancellation/Reschedule/No-Show: Please make every effort to show up to your coaching session on time and prepared because you value your progress. But life happens. If you must reschedule your session, please tell me the night before your appointment or 24 hrs in advance. If you do not provide notice 24 hrs in advance/night before and miss your session or if you are late by over fifteen minutes, you may reschedule but not be refunded. The second time it happens, in addition, you will not be able to reschedule.
Coaching packages are refundable for unused sessions within 60 days. However, if you don't follow the above cancellation policy, you will still be charged $100 + used sessions. The remainder of unused sessions will be refunded.
All other policies are in our coaching contract. You must agree to this contract to before beginning your sessions.