It is easy to sling around slogans that state that we should love our neighbors, but truthfully, it isn't that easy to do. It is just easy to state that we love them. But even if we write it on our t-shirts doesn't make us loving.
There is a "I love your neighbor" shirt I've wanted for a long time. But even if wanted it, I wasn't sure if I could live up to it.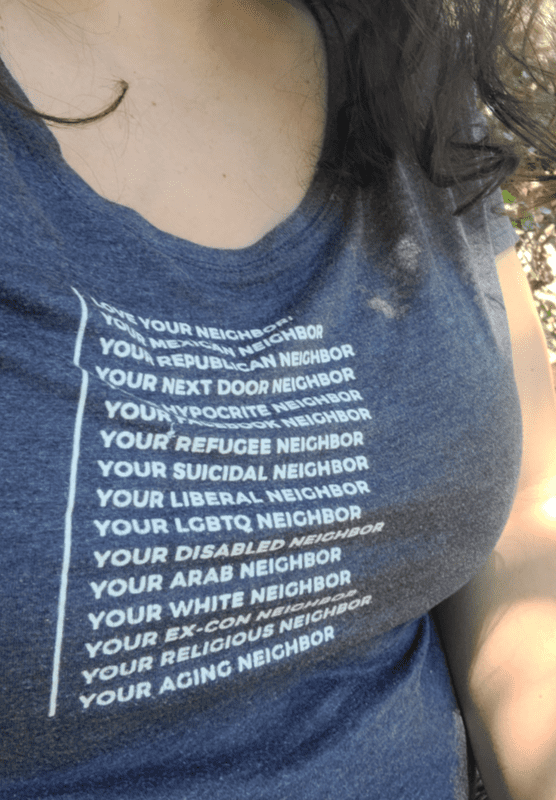 I'd seen people wear the shirt to make a point, to take a stance. It is a flag, it is a, "This is what we do, guys! Suck it if you don't measure up!" type of thing. I didn't want it for that reason. I wanted the love your neighbor shirt because I could actually love my neighbor. (And yes–I definitely have other "I'm taking a stance" shirts!)
For nearly a decade, my email signature states, "Don't just say you love people, really love them!" It is a quote from a passage in the book of Romans. I'd ask myself, do I really love the people this email is going to? Does it represent me? Do I genuinely love all people?
I wanted to wait to get this shirt until I felt like I could live up to the shirt, to not be a hypocrite.
But I am a hypocrite. We all fall short of the lofty ideals we hold to.
Do my "neighbors" who identify in the ways my shirt describes them believe they are loved by me? I want to say yes, they should! I love them! I've taken actions to love people in all these categories. But some of the categories, I am not really connected to people in. Or they trigger me–we are on different places in our Spectrum of Belief.
I haven't always been told that people feel loved by me. Maybe I haven't. Maybe I couldn't. We don't have the capacity to love everyone how they would like to be loved, especially deeply, or in all ways advocating. Then there are the things people bring into relationships: traumas, protective mechanisms, and unhealthy expectations. These are important to recognize.
And yet we still need to take it seriously and deeply consider why someone might feel unloved. Or why we are missing some relationships with some people.
I fall back to a scripture from my faith,
Search me, O God, and know my heart;
test me and know my anxious thoughts.
Point out anything in me that offends you,
and lead me along the path of everlasting life.

Psalms 139:23‭-‬24 NLT
As I do that, taking up this challenge to be searched and known deeply, to examine my prejudices, and love my neighbor as myself…I am transformed.
I decided that I shouldn't wait until I arrive at perfection or try to pretend to be what I am not. I just got the dang shirt.
I'm still learning how to love all my neighbors. I'm still transforming into a person of love. As I shared yesterday at @authenticallyelisa – I'm still becoming (and forever will be).
If you get this shirt don't just let it be a stance. Let it become a challenge as you transform.
Where Do You Get The Love Your Neighbor T-Shirt?
I've seen these shirts or variations of them at lots of places. I got mine used at ThredUp (yes, that is an affiliate code which helps me keep this blog afloat). I love ThredUp for clothing in general. It keeps me from adding to the demand of fast fashion, helping me to purchase more ethically.
Why do I care about this? I talk about it here: How Politics Pushed Me to Only Buy Ethically Sources Clothes. Honestly, I'm not always great at this, and buying used doesn't fix all labor unfairness. But it does reduce the demand for slaves and for workers who aren't paid well. In addition, I care about creation care and climate justice, and buying used also helps that.
The Do Good Shop is another place where you can get a shirt like this. They are a nonprofit and have helped us over the years with Blackout Trafficking.
The Happy Givers also have a shirt like this. They are another socially good brand, and the proceeds of their sales go to support a sustainable mission in Puerto Rico. They also have great sales, often 60% off and I love their vibe.