*This used to be called the Five Steps To Being a World Changer which you can learn about here*
Are there really just five steps to be a world changer, rising up to make a difference? No way! I am with you if your thinking that no one can really claim to distill a lifelong process into a handful of steps. Trust me, the Five Phases of Rising Up isn't about linear steps. I want to guide you through the meandering path most people go through as they find a best fit to make a difference. We don't just find a "one thing" or a "perfect" way to make a difference). Instead, what we find is a journey that builds upon past experiences.
I'm here to empower you to recognize the phases you are in.
After fifteen+ years of studying people who are making a difference in their homes, communities and world I can honestly say there are a few parts of this process, that without fail, I've noticed everyone go through at some point or another.
I want to help you become more fully alive and find your best role as a world changer. This is a forever journey, but navigating it is the tricky part.
In other words, I can't guide you to a perfect purpose, calling, roadmap, or Life Map to define who you are and what you should be forever. (Come'on guys, I'm not God . . . and every time I try to be we're all in trouble!)
But I do believe that gauging yourself in these five phases will help you see yourself within the process a little better. What matters most is if you are moving forward in these five steps.
Five Steps To Being A World Changer
So what are the Five Phases of Rising Up?
Real
Compelled
Movement
Invested
Intentional
What do these mean? There is a lot of depth to each word and over the years I've changed the terms multiple times to more accurately fit it's phases. I have a list of adjectives describing each phases, largely taken from different cultural groups that call it different things. It is also important to go over the descriptions, feelings, cautious, next steps, and how to move into the next phase. This is a lot of information, which I include in my free pdf guide. I highly suggest downloading a copy because if you've made it this far on this page, I guarantee it will empower you!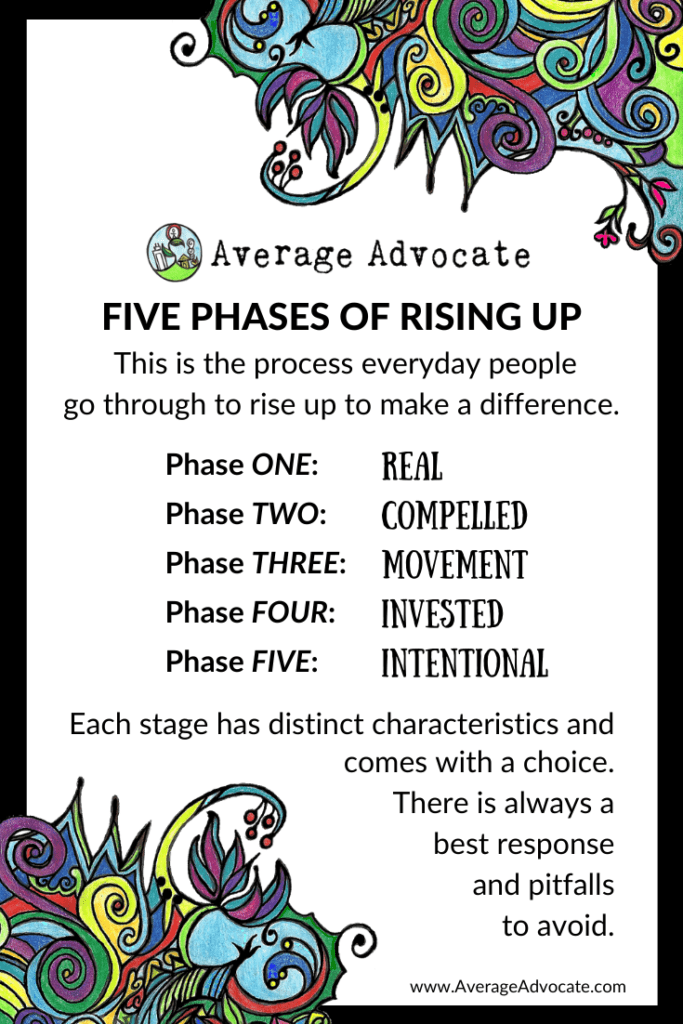 How Do You Move Forward as a World Changer?
I suggest going through the guide and using the assessment questions to determine what phase you are in. If you'd like to really get into it more, I speak on this and do virtual workshops on walking people through this too!
Stay-tuned, as I will be incorporating this steps into a lot more content at Average Advocate. In the meantime, be sure you get updates from me to not miss out! (Easiest way to get updates is to grab one of my free tools designed to help you, like the one below)