You should write a book! Has anyone told you that? Maybe you are unsure about writing a book, but if you have a message to bring to others, I want to tell you about something that has become very dear to me: Hope*Writers. Hope*Writers is a membership writers group that has helped me a lot. Now I work for them (and on my own) as a writers coach.
Have you heard these?
You should write a book!
You communicate well!
Have you thought of starting a blog?
You should be a speaker!
I'll subscribe to your YouTube channel!
That would make a great podcast topic.
I'd watch you all day on TikToc!
People need to hear that message!
Then, if these are some things you feel:
Overwhelmed (by the options available)
Unsure (about your message)
Confused (how to navigate the business of communicating world)
If you relate to any of these, Hope*Writers might be a good next step for you!
(Yes, this is an affiliate post. This means I could earn money–which only goes back to running this blog–if you decide to purchase anything affiliated with Hope*Writers. But at Average Advocate, I've committed to only ever giving honest reviews. If I promote something, it is because I love it.)
What's Your Message?
I started blogging back in January of 2005, when blogs were barely a thing. I loved to write. I was a horrible writer. And I had a message to share. But I had no clue what it was. Fast-forward fifteen years.
The above sounds pretty familiar, right? I write about it all the time. I also write about a ton of other things, but they always lead back to this message. I wonder what it would be like if I could have given Hope*Writers to myself at the beginning of blogging. I don't regret the slow growth I've gone through, but I would love to empower other who want to make a difference through their messages avoid so many bumps along the way.
It hasn't been easy to get here, let alone have all I need to share this message well. It was hard to find the training, support and community I've needed to be able to do this. I've joined countless webinars, bought courses, joined a membership mastermind (which was still really helpful)…However, it has really only been through Hope*Writers that I finally feel like I've found "my tribe" and direction as a communicator. Here I have connections, cheerleaders, training, and empowerment for the specific stage of writing I am in (publishing a book).
I joined Hope*Writers very reluctantly–I was part of one of their small writers groups (Hope*Circles) and listened to their podcast long before I went all in (and even then I was only planning on joining for three months)! And once I did, I found what I was looking for as a communicator, which has changed in different seasons.
It is no wonder I am recommending them!
Here's some help to share you message:
First, where are you on the message journey? Do you know how to share it? Are you unsure how to publish? Do you need connections? Want to network? Learn where you are, as that is helpful: Take the quick quiz.
Second, if you ARE thinking about writing a book I would look at this first. Here is a free guide just for you: 10 Questions to Ask Yourself Before You Write a Book.
Coaching Writers
In 2021 I decided to take my relationship with them further, as one of their contracted coaches for writers. To be certified, I had to go through months of training, develop co-active coaching skills as well as follow a proven method for coaching sessions, complete a set of practice hours, be reviewed, and meet other requirements. You know what was the best thing about it? Not only do I get to be contracted as a coach for a company I believe in, but I also get to walk alongside people who want to make a difference in the world with their message. I love seeing these writing changemakers move forward!
If you are interested in learning more about using me as a coach with Hope*Writers, check it out here.
(Please note: because of the nature of my contract with Hope*Writers, I am unable to provide creative coaching services through my private practice at AverageAdvocate.com to members of Hope*Writers and we have to further our coaching relationship via Hope*Writers itself). Lastly, I am willing to trade services with other creatives (ex. coaching for virtual assistant work, video editing, other projects, etc…).
Not Ready For Hope*Writers or Coaching?
This is some of the content I've written that might help you on my own website. Hope it helps!
If you don't think you are ready for something like Hope*Writers yet, these posts might be helpful for you.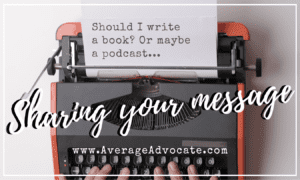 If you do join Hope*Writers:
Step One: They have an open-season for joining only three times a year (May, September and January). When it is that time-period, go to this link to join.
Step Two: Take 30 seconds to tell Hope*Writers that I recommended them to you here.
Step Three: Tell me! DM or email me so I can support you! You might be at the same place I am, and want to join a Hope*Circle with me! (A Hope*Circle is a free writers group or small group that provides relationship and accountability to help you move forward or it can be a group that goes through an interactive course together as a Guided Hope*Circle. In addition you can also join me for Life Mapping to coach you through your purpose, goals, and schedule.
Again, if you are wanting to take a next step as a writer, please consider booking a discovery call with me! Learn about coaching and pricing.