We need safe spaces to talk about hard things. Right now many of us are willing to share, talk and listen, which is why we need your voice on racism.
Unfortunately, there aren't always a lot of places that can be safe spaces, nor are there always platforms for everyday advocates to be heard, their voice put forth. Just like you, I am an average normal person. I also have a platform where justice is discussed by everyday people.
You might not have a place to write about racism, but if you have a story–your story–to share, I can assure you, your voice needs to be heard by someone. That is why I am welcoming you to this safe space for your voice to be heard.
Guidelines for Your Voice on Racism
1.) You can share an essay, journal entry, prayer, poem, things you are learning, tips, resources, commitments, apologies, experiences, etc… However, please no videos (unless they are a video of you performing a song or spoken word).
2.) If you post here, I expect you to do your part and bravely share it with your circles on social media (and if you're a blogger/influencer, link to it in your newsletter) just like I will be doing to honor your story, in my own channels.
3.) However, you may share in Your Voice on Racism anonymously without me posting your name, submitting a bio, or linking back to you (but please still challenge yourself to share your story somewhere, to someone).
4.) Be sure to glance over Average Advocate's guest posting guidelines.
5.) Although the content you share here might not be new, it must be fresh and updated from where it was previously posted. Alternatively, you may submit a link and I will add it to a group of similar Your Voice on Racism stories with the quote you think will best represent your story.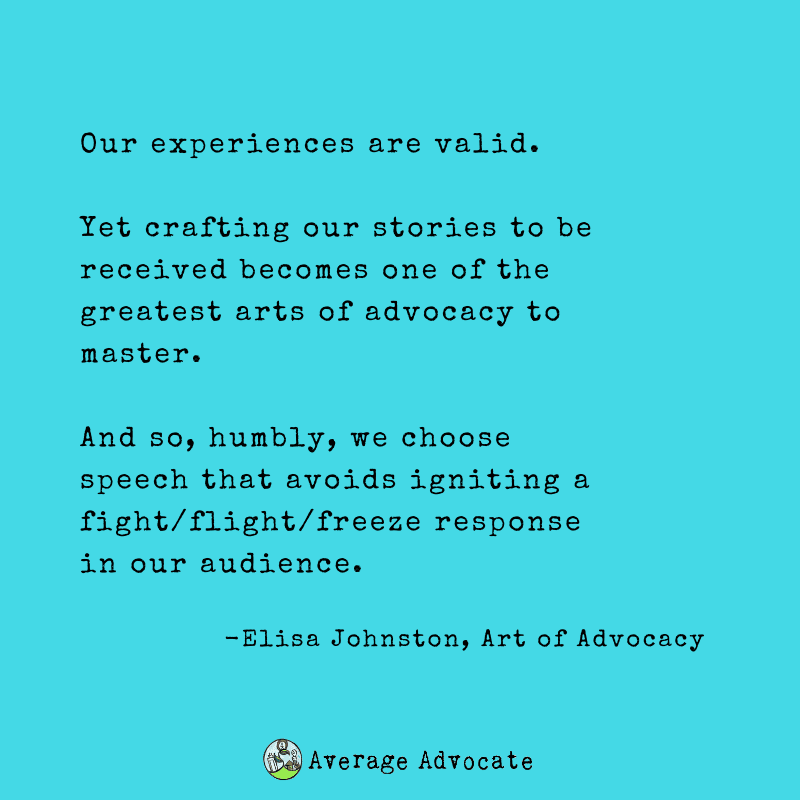 6.) The purpose of these posts are for us to come together, not to ignite division. Your story might include hurt, anger and feelings of hatred. And so I will work with you to edit content so that it sounds like you are sharing your story, not simply using your voice to attack, shame and/or "should" your listeners. Our experiences are valid. Yet crafting our stories to be received becomes one of the greatest arts of advocacy to master. And so, humbly, we choose speech that avoids igniting a fight/flight/freeze response in our audience.
7.) If you are a person of color, please share your story. We need your voice more than ever!
8.) If you are White, please share your story too! But please recognize that we are being called on to be honest that we have privilege and must come in as a learners. There might be another avenue elsewhere for it, but Your Voice on Racism isn't the place for our own self-defense. (Trust me, I've been here more times than I wish.)
9.) Just in case this needs to be said: We will not always agree. Someone is going to be offended and that is okay. Let's try to talk through it by keeping people over the problem.
10.) Your Voice on Racism are not my opinions. This is to offer different perspectives–yours–not mine. Although I will not post posts that I think will do more harm than good, this does not mean I 100% agree with what everyone here is saying.
Shared Vocabulary on Racial Terms
Vocabulary! Honestly, this is one of the biggest tripping points for my White friends. As such, here is some common language we'll use:
Capitalize ethnic terms and racial identities (Black vs. black – here's more on why I am behind that)
We use the word "Black" these days. Although African American is still acceptable, a lot of Black Americans find it narrow, as many do not hail from Africa.
You just don't need to use anything that starts with an "n" unless your Black friend is named Neil, in which case, heck, call him Neil.
People of color (POC) is the chosen term for pretty much everyone who isn't White (but please, do not reverse those words in a different order or ever refer to someone as colored)
Indigenous peoples and First Nations (the later especially in Canada) are preferred names. Native American is also okay. No need to use the term American Indian unless you are talking about Indian Americans with a South Asian heritage.
Please inform me if this needs correction and I will update it here as soon as I can!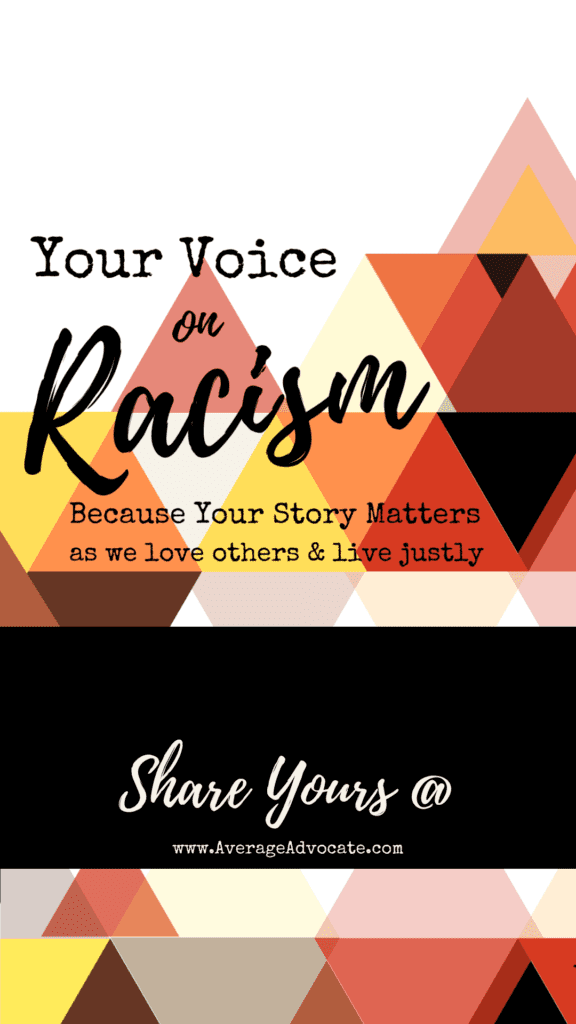 Because Your Voice In Needed
I hope you know your voice matters, because it does. I don't know about you, but I long for a more just world where racism doesn't rule. Where those of privilege, the high, choose to elevate the low and where the low are lifted up and seen.
I believe this happens best when real people hear each other's stories. So, please, speak up. Make a difference. We need to hear you.
Connect with me here or email your piece to AverageAdvocate @ gmail – dot- com! Looking forward
Previous Posts – Your Voice on Racism