I'm an everyday mama, nonprofit and ministry leader who empowers you to make a difference without burning out. I want to meet you where you are at. It is true, things are a little crazy (at least if you live in the United States), from protests to politics to pandemics. Our reality is not peace. That is why today I am briefly going to share three tips on being a peacemaker.
We do need justice, leaders who implement justice, and of course we'd all want to avoid COVID-19! Unfortunately, although as advocates we influence what is going on around us, we can't control it.
One thing we can control is our response.
Whether you are already an activist or just a surprised citizen, watching things burn, this is my question for you:
Will you join me as a peacemaker?
The idea of being a peacemaker is largely tied to an Hebrew word, Shalom (these days often used to say hello or goodbye). But its historical context renders this word as so much more than just "peace, dude." It refers to a society so wholly permeated with justice that the result is peace.
When I say I care about justice, I don't just mean reacting in justice (punishment). What I really care about is that society is already reflecting a justice, fairness, goodness so deep that the need for retribution becomes null.
Utopia, right? Yep. But I will still do my part in seeking justice as a peacemaker.
(Learn more about different terms and worldviews on justice, simplified, here.)
So, how do we become peacemakers?
One of the most challenging parts of being a peacemaker is recognizing that everything isn't so cut-and-dry. The best way for me to seek peace might not be the best way for you to do so.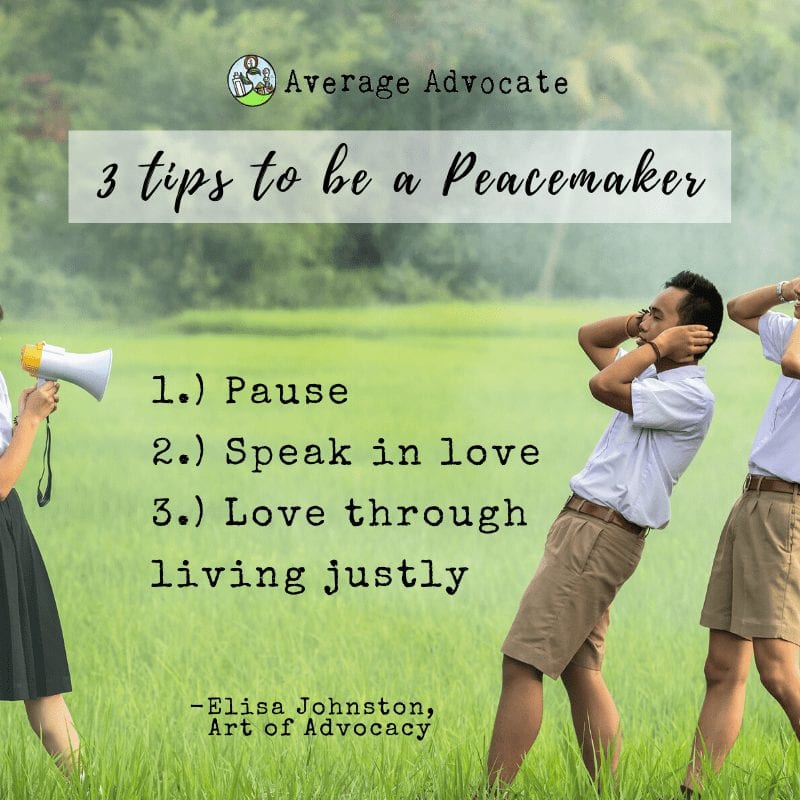 3 Tips to Be a Peacemaker
But here are some ideas for all of us to be a peacemaker:
1.) Pause. Implement this VERY IMPORTANT ADVOCACY PRACTICE: Cocooning
2.) Each time you take an action towards justice, ask yourself if you are ALSO able to do so lovingly (Check out How to Start Good Fires for Social Change vs. Angry Activism)
3.) Each time you are content at simply loving your local neighbor, challenge yourself to look at how you can influence systems that create justice (Because Justice is Public Love)
I am excited to keep pushing through this time with you as great advocates. Let's do our best to be peacemakers in this season!