Sole Hope is an organization whose goal is to give hope to widows, orphans and other children by using a sustainable approach in foot care (never underestimate the power of feet!). A few months ago guest blogger, Steph from Encouraged in Heart, posted all about Sole Hope on Average Advocate. I was inspired as I learned about how to do a Sole Hope Shoe Party. Not only did it seem like an awesome way to be part of world change, but I wanted to review this charity action idea for you!
Why Sole Hope?

Sole Hope is cool because they solve multiple problems at once. They spur sustainable development by providing fair-wage jobs, hiring people to sew shoes together in Uganda, Zambia, and in the States. Then by giving away these away in impoverished areas where families haven't been able to afford shoes. But first, Sole Hope provides medical care to those who have diseases, parasites, and other ouchies in their feet because they didn't have shoes in the first place. Not only that, but the provide education to keep foot-related diseases at bay.
I love that they provide good aid by doing both relief care and sustainable efforts!
They Let Us Help! (So Rare.)
One way this organization stands out is that they give us average people an easy way to give of our time and resources. They don't just ask for our money, (although of course they need that too) but they are willing to deal with the logistical challenges of taking things from here and bringing them there.
In other words, our waste is transformed into recyclables to make the shoes.
Less in the landfill is great, but even better is that they give us a tactile project for people to be involved in with their families. This helps lead us to become advocates, caring for our neighbors in different situations. We get to put our scissors to work on our crumpled old jeans, spending that tedious time to cut-out shoe parts.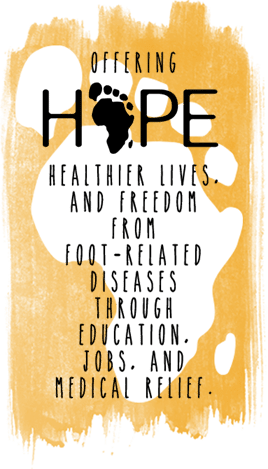 Was Hosting a Sole Hope Party Worth It?
It was both good and unexpected.
Unexpected because of the one-hundred women I invited, most of the people who came I didn't expect would come. I didn't even know everyone there–they were friends of friends. For some reason, I expected that the people who would come would be the those in my close community. Of course, there were a few of my close friends there. But overall it was a rather random group. Which was cool, as we all got along okay and it was a pretty good way to get to know other people.
We connected.
It was also unexpected because we only made about 40 pairs of shoes. With two to three hours of shoe-cutting under our belts, we averaged at a little less than two pairs of shoes per person. Okay, I know that is still good, eighty more shoes for forty kids who need them. But, for some reason I just assumed we would have made more than that!
Since then, a few of us have worked to cut out more parts of shoes to complete the missing pairs of shoes. After putting hours into this project it really does make us feel like we are needed.
Keep going to learn how to do a Sole Hope Shoe-Cutting Party. But first, I just wanted to make sure you knew about this free resource if you like learning about advocacy projects like this one that you can do to change the world:
How to do a Sole Hope Shoe Party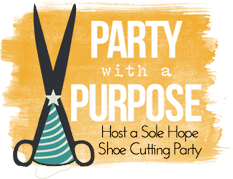 Six Steps of Advance Prep for Your Shoe Party:
1.) First, go to the Sole Hope Shoe Party page where they have all the details to get your party going.
2.) Second, order a hostess kit which gives you resources and directions. The kit cost is based on the amount of people you might have come: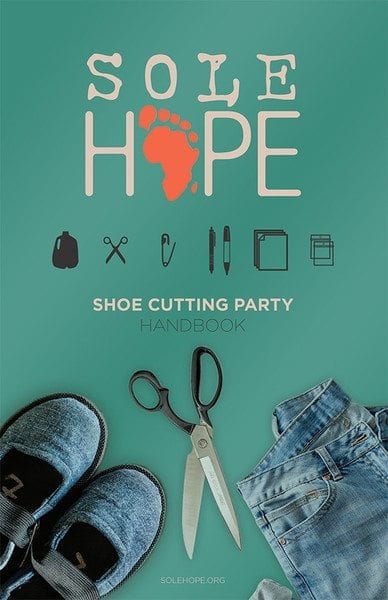 200 people from your church
Fifty people from your business
Twenty people from your neighborhood
We had about 25 people at mine and I used the smallest kit to save money, and it worked fine because we just made more patterns to go around.
(Please note: as this post is from 2011, the kits have changed and the items included are likely different. Undoubtedly, as it now includes the above handbook, the design and information is much more appealing!)
3.) Third, send out an evite like the one I used or download the flyer I used. Sole Hope now provides their own on their shoe party resource page (along with super cool coloring sheets for kids!) that is great.
4.) T
hen, start collecting sheers. Pinking sheers. Make it a game to find them. A facebook post. Knock at doors. Finding pinking sheers is kinda like finding a dog-sledding team in the middle of a city. In Florida. But let it be known: I NOW OWN PINKING SHEERS (and probably spent more on them for this party than anything else).
5.) Gather more materials for the party. Old jeans and plastic milk jugs/cardboard juice cartons were the other things that were more difficult to get. Its nice to have a big piece of cardboard to cut out patterns, along with safety-pins, Ziploc bags, sharpies, scissors and cloth material.
Honestly, I pretty much didn't even bother getting anything besides the sheers. I was worried a few days before that we'd be sitting around doing nothing because I wouldn't have any of these materials, because, well, I didn't have any.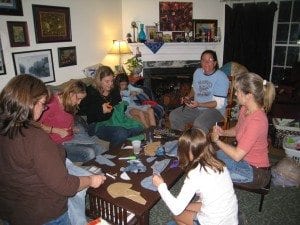 But my friends/random people brought their old scrubs, Starbucks work aprons, and old curtains. Everyone brought just a few things (and some food!) but when complied together it ended up being a lot of stuff! So, now I own a tons of colored sharpies which people left behind. (Score! I LOVE colored sharpies! Unfortunately, so do my kids)!
6.) Start really bugging your friends to come. Ask them to come one-on-one or if they know anyone who might be interested. Converse with them about pinking sheers because you are so desperate. The more personal touches you add in addition to your invite, the more likely people will come.
On the Day of Hosting Your Shoe Party:
Ideally you should probably look through the packet and instructions a few days before your party. And maybe you should buy some food to much on while cutting shoe patterns. Again, irresponsibly, I did neither of these. (But I did clean my house a couple hours before it began, which is just short of miraculous!)
When my first guests came in, I didn't know what to do with them so I gave them the patterns to cut out on cardboard for everyone to use in shoe-cutting later. My friend Steph was more prepared; for her party she did this part in advance. But, this worked as good entertainment for my early arrivals until we really got started.
After about forty minutes, we dragged people downstairs around my tiny TV in shifts, letting them watch the Sole Hope DVD. It was there that I discovered that there were actually instructions, just for me, on how to do a Sole Hope Party! (Oops! Missed those!)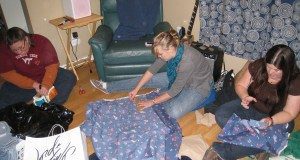 The shift of people who were not watching the DVD served themselves food and were given instructions by my friend, Katie, who had previously done a Sole Hope Shoe Party. Multiple times, she forcefully told everyone that they MUST cut the cloth with pinking sheers (let's just say she had some experiences at her own party to make sure it the shoe-cutting would go right at mine).
Katie was pretty much the only one there who knew what she was doing. I was just playing hostess, busying myself going up and down the stairs, answering questions, finding paper plates and talking with everyone. (I'm really good at that.)
After that people just cut-out shoe parts wherever they found room to sit in my tightly-packed house. It was exhilarating. Eventually people started trickling away with the hope of doing a Sole Hope shoe party again somewhere together another time. We didn't totally clean up until a little before eleven.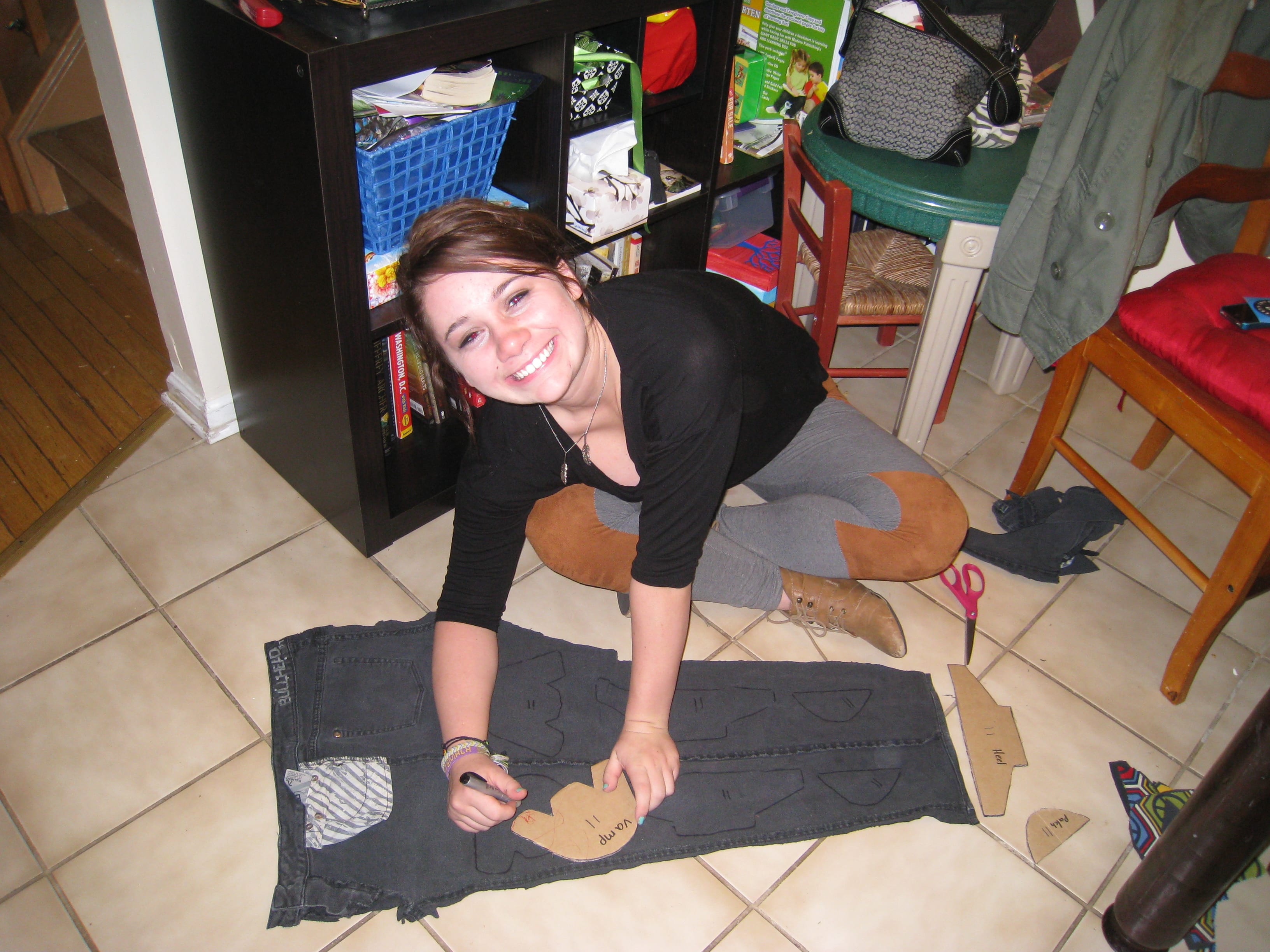 So what did I learn from all this? Check out this post, 10 Lessons I Learned From Hosting Our Sole Hope Shoe Party! 
(Wait, what post? Oh ya, I never published it, along with 200 other posts I've never edited for you. I promise, someday I will.)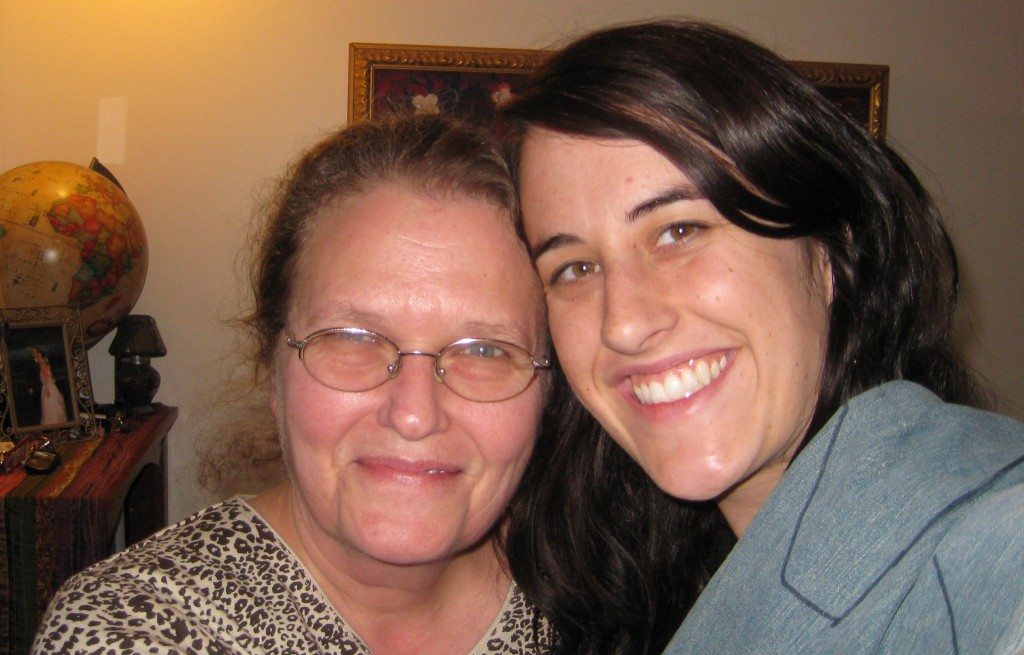 Let me know if you are interested in doing a Sole Hope Shoe Party!
Comment below if you have learned anything more about hosting one or your own experience! I would love to hear it. Overall, this is a charity action idea I would totally recommend to change the world!