In case you have never heard of it, there is a yearly awareness event dubbed One Day Without Shoes, which TOMS Shoes started. This might just seem like something for radicals, but even suburban stay-at-home moms can do it. Although the best conversation I had was with the receptionist at my dentist's, I think bringing awareness to global poverty by walking around, going without shoes for one day of the 365 of the year, is such a great start towards being a world changer. (But I warn you, if you choose to do this challenge, do watch out for fallen dental hygiene picks.)
One Day Without Shoes is a good project because mostly because it is simple. It really doesn't require any effort in advance, but you are transformed visibly into an advocate for the global poor as you take each step without soles. Even if your place of employment or school requires you to wear shoes, you can walk to work shoe-less or just go part of the day without shoes.
1st Time Observations About One Day Without Shoes:
Pavement hurts, but nature hurts more (nuts, sticks, rocks, twigs, clumps, random animals, etc…).
Outside D.C. it was a cold rainy day on Day Without Shoes. Although I am a perfect candidate for going without shoes (being somewhat of a flower child and living most of my life in flip-flops or even barefoot by the beach) it was somewhat miserable. It was cold. My feet were cold. And my mom thought I would catch a cold.
I  had to actually look where I was stepping. Luckily the dog poop was just a very close call.
The grossest place I went without shoes was the gas station bathroom because my daughter insisted she had to "go potty right now!" We had to wait for the tall, tow-truck driving, Santa-bearded, tough, huge, biker man to finish before we went in the small bathroom. The toilet seat was left up in his wake and my feet became very self-conscious of their naked state on the grimy floor.
Besides the gas station, I also went to the dentist, the grocery store, my parent's, my friend's, and tried to go to the gym. I did conceded  to wear shoes on the treadmill, though, because otherwise I would be kicked out. Maybe that should have been part of my experience, though?
How Your Awareness Can Grow By Going Without Shoes For One Day:
Like I said, I was not allowed to use the gym without shoes. This really made me consider how poverty limits opportunities. It is not just in the States, but in many places in the world.
In the same theme, it made me appreciate the organizations collecting business clothing to help those who are homeless to get jobs, and why having a pair of shoes can allow someone the ability to go to school or work.
I only risked minimally. But in that one day without shoes, I was asked more than once if I was aware that it is dangerous to be without shoes! Yes, thank you, I did realize, this, and it is kinda the point! Why else would should I even care about people without shoes? They always face those risks.
Spiritually, I was thinking that if Jesus told people to not worry about clothing, he did so because he knew that was something we do worry about (Matthew 6). So if God, in heaven, cares about caring for humanity with these things, then so shouldn't I care for others worried about lack of clothing as well, if I am trying to care like Jesus did?
I experienced a small taste of poverty, and felt very self-conscious of others noticing me because I wasn't up to the standard.
This helped me go beyond knowing information, but helped me "get it." By the end of the day it was personal enough for me to care.
I thought about how Jesus asked us to turn the other cheek, walk the extra mile, and give away your sweatshirt (coat, whatever). I kinda started wondering if maybe there was something he said about giving the shoes off your feet to someone who was taking a long walk. I guess no one recorded Jesus declaring this, but I suspect Jesus might have said that anyway.
Practical Things Will Do Next Year For One Day Without Shoes:
It was better for me to say I was participating in this action with countless others. I could refer back to that, instead of feeling like a weirdo.
Not very many people asked me about it, even though people looked at me weird. Even though I wrote on my feet, I really needed some aid to talk about what I was doing without me having to go around telling people. The ladies at the dentist office said I should do that. But I think that would be too eccentric and creepy.
Next year I will take advantage of all the tools on the website, maybe make a shirt, stickers, or a sign to slap on my back.
I will use the phone app for this event, if it is improved. This year it was utterly useless because it just forced closed constantly. It was not just user-error! It was also the complaint on the ratings.
I hope this inspired you to consider this advocacy project! As you can see in the images below, my feet didn't get too nasty that day!  (I guess they already were kinda nasty looking! I needed a pumice stone!)
You were meant to make a difference, and in this small way, you can! Let me know if you are going to do this with me next year in the comments below!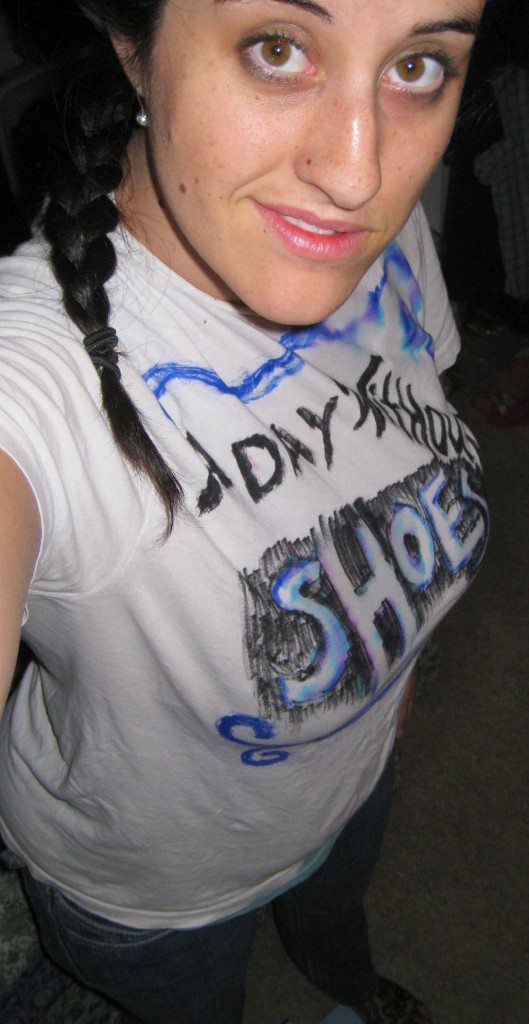 If you liked this & want more advocacy ideas you can do with others, you might like this free guide: