Last year a new subscription-based ethical product showed up on my radar, the Arise Box. It caught my eye because the goal of this subscription box is to bring hope to survivors and help end human trafficking.  But how does the Arise Box actually help? I was able to get in touch with the founder, Cassidy, to find out.
The Arise Box is like most other subscription boxes, it releases quarterly and is filled with ethical products. Notably, each box sold also helps build care packages for human trafficking survivors.
Sneak Peak Into the Winter "Coziness" Arise Box
January is usually a tough month. It's cold, the excitement of the holidays is over, the days are short and dark. . . so the Winter Box is all about coziness. Sure it's cold (unless you live in San Diego like me), but the winter box will feel like a warm hug. Or so promises Cassidy, which, after looking at what's inside, I'm inclined to agree!
Here is what is inside of January's box (which you can get here):
-An Arise Box exclusive blue or cream scarf with awesome fringe (scarf donates towards domestic abuse shelters) to snuggle up in
-All-natural, vegan, fair-trade whipped body butter (a little of this stuff brings tons of moisture back into dry skin)
-A sustainable, hand-poured candle designed by artisans (to chase away the darkness during winter)
-A LBD.Project "Freedom is the new black" button to create awareness about human trafficking
-An indulgent bar of fair-trade dark chocolate (always a necessity)
Yes, you probably noticed the Arise Box is carrying one of our LBD.Project buttons. This is the main reason I was able to speak with Cassidy, to partner with them to help get the word out about our annual LBD.Project, where participants wear the same black item of clothing for 31-days in March to help bring freedom to modern slaves. (If you are new to Average Advocate and don't know what this is, you must check it out here.)
When you subscribe to the Arise Box, you know that your purchase always goes to ethically sourced products which give back, while also helping sponsor a trafficking survivor's care package.
Sponsor a Survivor
When rescued from trafficking, most survivors don't have anything aside from the clothes on their backs. The vision of the Arise Box is to give them beautiful and useful items they can call their own.
Cassidy partners with nonprofits who work with trafficking survivors. The purpose of the care package isn't to give these women stuff they need (the nonprofits already provide that) but to help remind them of their value and worth. These empowering packages are curated with gifts, including variations from jewelry to journals; candles to books, chocolate and more. In addition, when you sponsor a care package, you get to write them a letter of encouragement (which will be handwritten for you).
Adjusting to their new life of freedom can be very difficult for survivors. These care packages remind survivors they aren't alone.
Over this Christmas season Arise Box was able to sponsor 30 care packages to survivors!  It costs $25 to sponsor these care packages (including shipping and the gifts inside, which are worth much more).
Connect with Arise Box about other ideas for survivor care packages.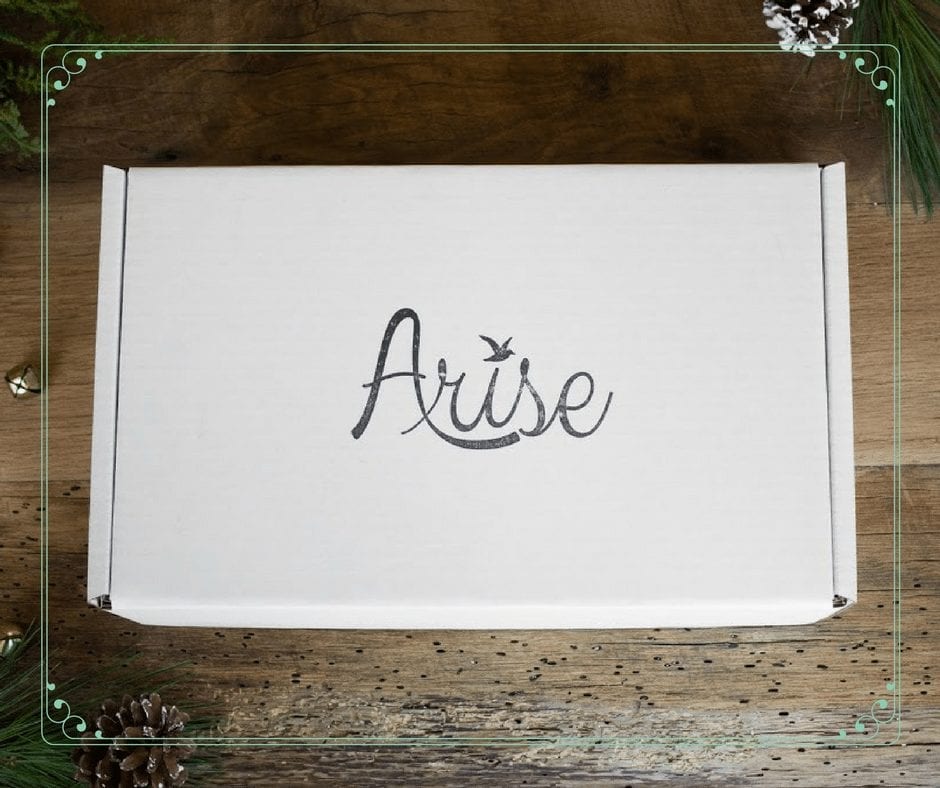 Touch A Life
Additional donations to this fund are used to send gifts to children in Ghana recovering from human trafficking through Touch A Life, which is actually a really great organization.
There is a fifteen year-old survivor at Touch a Life who is using his artistic talents to design the two postcards that will be include in the winter Arise Box. The postcard is self-addressed and subscribers write a note of encouragement for survivors and send it back to us. We then forward that card on to safe homes.
The Arise Box Empowers Human Trafficking Survivors
I think the thing I like the most about the Arise Box is that the founder, Cassidy, was brave enough to start it. As we know, subscription boxes are all the rage these days. In fact, just a few years ago I remember when the now renown Causebox was just a dream being launched out of the social good company, Sevenly. Now, its impact is astronomical.
After talking with Cassidy, I know that the Arise Box has the same potential. I hope people like us, who want to make the difference in the world we were born to make, don't just buy it because we like the stuff. But rather, we buy it because we believe in the vision, because we see it as an investment in a business that has already began to change the lives of survivors of human trafficking. The Arise Box can have an astronomical impact too.
---
---