Every year we embark on the LBD.Project (the Little Black Dress Project), in March to help bring freedom to modern slaves. And without fail, we always find ourselves surprised at the end of the month by how cool this project for everyday people is.  What are the some of the surprises from the LBD.Project 2017?
We are still hearing back from participants, but this is what we've got so far in how this group of everyday people changed the world.
Fundraising for the Freedom of Modern Slaves
This year we had a goal of raising $10,000 for our featured organization, Hope for Justice.  We also hoped to raise $1000 for each of our five partner organizations.
Did we raise that much?
Yep, and several thousand more! We are so impressed that this grassroots movement is still doing something amazing! This means we have raised over $50,000 in these six years of the LBD.Project through exponential growth. We don't want our expectations to get too high, but we kinda hope the amount we raise keeps doubling!
Although we went beyond our goal for some of our partners and featured organization, we didn't hit the $1000 for each partner. However, we were pleasantly surprised that people choose to raise money for various other nonprofits too. One organization (Present Age Ministries) leveraged the LBD.Project with such excellence, having their staff and lots of supporters join, and they raised over $6000 for themselves! This is our vision for how this project can be carried out in the future.
Raising Awareness for Trafficking
It is no joke that a lot more people learned about trafficking as they did the LBD.Project. There is just something about committing to remembering modern day slaves as you wear the same black item of clothing daily. The 31 Days of Trafficking Facts seemed to really help this, and we hope to continue improving on this easy learning process.
We had two people ask about reporting suspicious trafficking scenarios because of the LBD.Project this year, which thrills us! That is part of our vision–that people surrounding us know that we care about this issues and so will then come to us when they find something that might be shady. Not only do the funds we raise go to help prevent, rescue, and restore trafficking victims, but unless people recognize what–who–is in the shadows around them, victims still will not be freed.  This awareness is essential and we helped grow it!
More Good Stuff From LBD.Project 2017
Here are some of the other cool stories that we heard:
People feeling empowered for the first time to do something about trafficking
People learning how to not feel clueless fundraising and learning to appreciate how much work it can be!
People learning how to practice generosity on a whole new levels
Individuals who became brave as they used their voice to speak-up
An individual not quitting their mission to create awareness while learning healthy "no" boundaries so they can say "yes" to where they can make the greatest difference
An individual not quitting starting their own non-profit because they were encouraged so much through the LBD.Project
Lots of women's clothing given to trafficking survivors
Lots of bras given to Free the Girls for survivors to sell and maintain their businesses
Friendships grown though the development of the LBD.Project team
People coming "out" about their own sexual abuse and helping lead others to find their own healing
People being brave enough to start their own businesses and learning to leverage them for good
Parents beginning to have conversations with their kids about hard things, like modern slavery and sexual abuse
People recognizing the signs of trafficking
Networking between organizations so they can have a greater impact
Do you have any other stories? If so, we want to know them! Comment below or fill out this survey!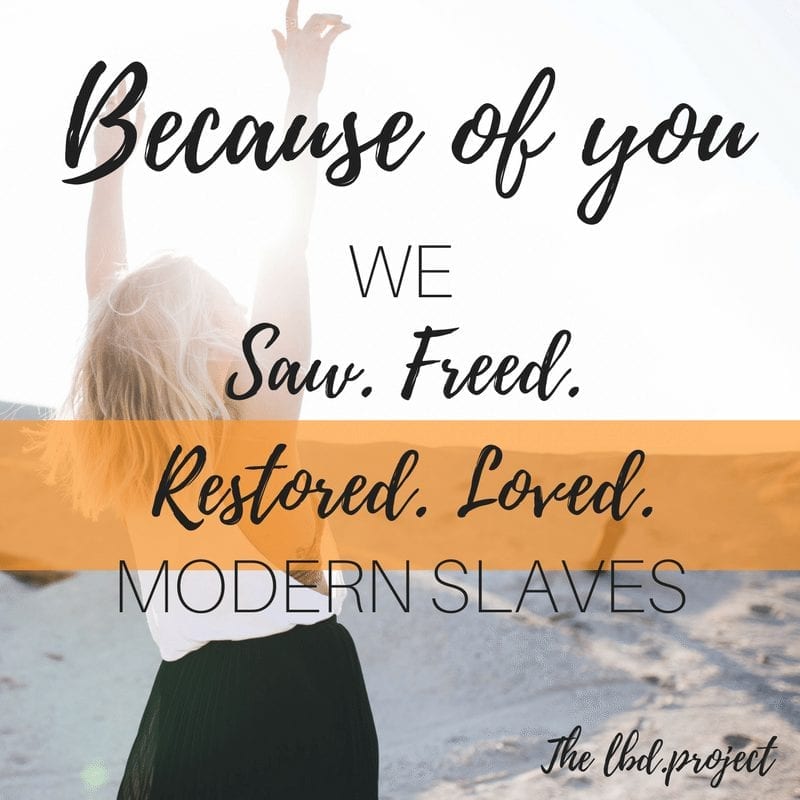 Next Steps For LBD.Project Participants:
If you haven't yet, watch this below video where I talk about how impressed I am with you!

We know that completing a 31-day challenge–limiting our freedom to bring freedom to others–can be super hard.
To be clear, here is who we are proud of:
Those of you who started and quit–yep, we are proud of you! Why? We know that doing something different in life can be tough, and we just appreciate that you decided to go for it, even if for just a little while.
For those who donated. $10 here and there doesn't seem like a lot. Sometimes, even $300 or $1000 doesn't seem like much of a dent. But together, our dent becomes a freakin' manhole. You made a way for people to be free.
Those of you who didn't fundraise, but stuck through with wearing your black item to cultivate awareness in yourselves and others each day through March–thank you for not forgetting the oppressed.
You who raised all that $23K! Wow! And wow again! Thank you for your boldness by "asking" on behalf of those who needed you to ask for them.
To all of you, we are grateful that you were part of our little movement that continues to grow. Over the last six years has raised over $50,000 to fight injustice. See, it is true! We ordinary people can do big things!
1.) MONEY
The organizations we are raising money for are beginning to receive and use their monies for super good things to set people free. WOOT!
2.) THANK THE YOU'S
Go back and thank everyone who donated to your campaign–please please please do this. It is well worth your time to help maintain relationships, keep friends inspired, and remind donors that they were part of something too. We wouldn't have raised $50,000+ over the years without these people!
3.) FINISH THE STORY
REGARDLESS of whether you fundraised or not, please tell everyone this good news! You don't have to say the total raised if you don't want to, but you can't live a story for a month and not tell people the ending! That would be just mean. There is just not enough in life to celebrate, so let us celebrate well!
4.) KNOW HOW TO REPORT TRAFFICKING
We've had quite a few people ask about reporting suspicious possible trafficking behavior because of the awareness we raised with the

LBD

.Project. As you become associated with being an abolitionist, you probably should know what to do when it is lurking in your neighborhood. We can't encourage you enough to contact the National Human Trafficking Resource Center by phone at 1-888-373-7888, use their online form, or text to BEFREE when something feels off. Please pass this on, especially if the person might be a victim themselves.
5.) TELL US HOW YOU FEEL OR WHAT YOU THINK:
We really need your feedback as we continue to move forward. Would you take the time to help us by filling out this survey?
We are forever thankful for the difference you chose to make in the world and your willingness to become someone who cares about setting people free. 
Gratefully,
-Elisa & the LBD.Project Team
Go to the LBD.Project Website to prepare for and join us next year!