The conscious lifestyle is a recurring theme here on Average Advocate. This is where we buy ethical fashion and social good products to use our consumer powers for good rather than unintentional oppression.  Even if it requires us to not buy as much, shopping fair trade or knowing the source of our stuff influences the market and slowly but surely changes the world as more people jump on the bandwagon.
*This post may contain affiliate links and I might be compensated when you click through links on this site. Note that all opinions are still honest and this in no way affects you!*
My Top Ten Favorite Social Good Stores
It turns out that for many of us, it is hard to know where to begin when it comes to finding ethically made stuff and/or social good products that help people when you buy them. And they aren't as easy to "try out" because they often cost a little more, or are less convenient to get. Considering, I figured I would keep a running list of my favorites.
Are they the best online social good stores? Not necessarily. I mean, I haven't bought things from all the social good stores. But for these various reasons–I like their product, I like what they are giving to, and customer service–I have currently decided to call these ones my favorites.
I expect this list will change, as I bump some out, and add more in. Maybe I will make a new list each year! In the meantime, if you need a birthday present of a new pair of shoes, check these social good stores out.
(This week I am also giving various social good products away, so check that out on Instagram.)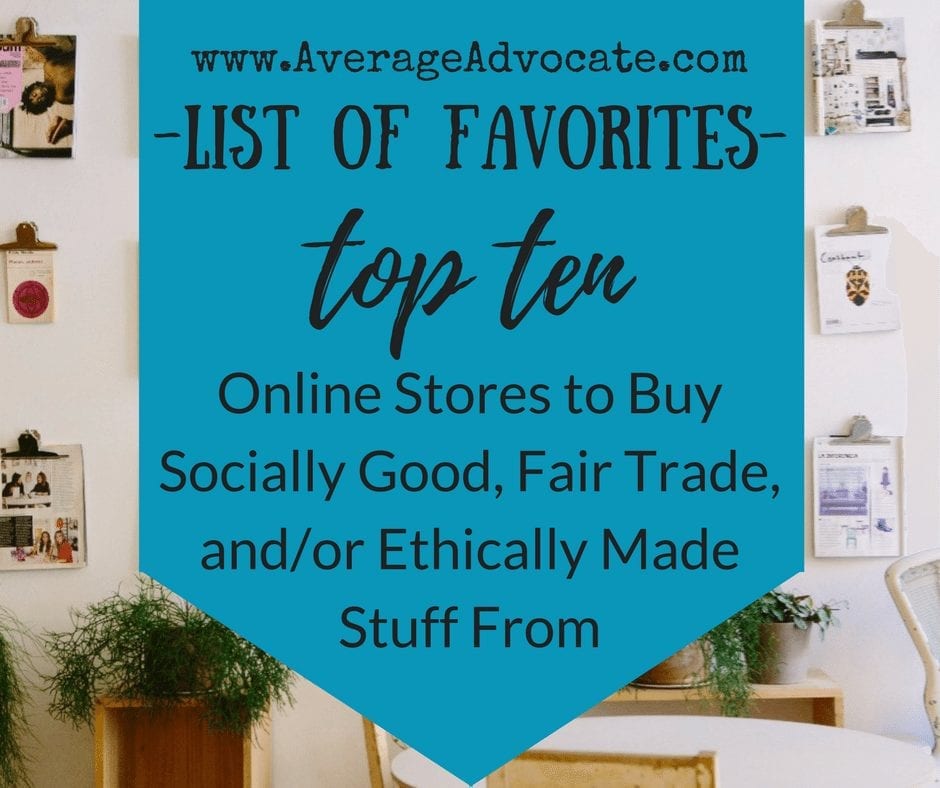 Stories of People Making a Difference In the World
Average Advocate focuses on helping everyday people–like you and I–find their best path to change the world. After having Jill and Luke from Sutton + Grove post for us on Conscious Fashion & Why Our Choice Matters, I couldn't help but wonder how they got into this niche in the first place!
Sutton + Grove is a lifestyle blog covering social good companies, conscious fashion, and living ethically. I decided to interview Jill and Luke and share it because there might be juicy pieces we can pull out from their story to empower us to make the difference we were born to make. Stories help us see how other people went from not caring, to starting, and from starting, to discovering purpose and where they fit best.
I wanted to share Jill and Luke's story so that as you skim through what they say, maybe you will be inspired to live a meaningful life too!
You can read it here on the HuffPost.

An Interview on the Conscious Lifestyle
Here were some of quotes that resonated with me in the interview:
"I think in order to make a lasting impact in our own life for ourselves, we need to be aware of the choices and consequences. That's why we use the word 'conscious' a lot in our branding and blog because it starts with being aware of who you are, what you are doing and the impact you as an individual has on the world around you."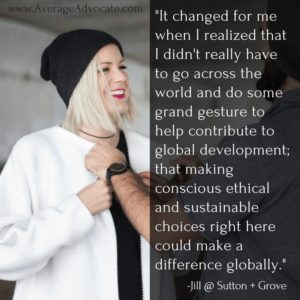 So although it may seem like a massive imbalance, run by large transnational corporations, the power is really on us, regular everyday consumers. That's what moves me and challenges me because we, as normal North Americans, can help shift culture and make changes that affect a historically global imbalance.
Again, if you want to read it, check out Why Conscious Fashion is a Way Sutton + Grove is Making a Difference.
_______________________________________