Intentional Acts of Kindness Checklist
Can you do them all?!
If you need ideas to help you start doing spectacularly little--and yet kind--actions that make a difference, this is for you. 
Family Summer Challenge Checklist
Checklists? I love 'em!
5 Phases of Rising Up
Ready to rise up? See where you are on the journey and find your next step.
Road trips are both a regular and vibrant part of my life. Although I would often prefer to travel the world and do humanitarian work or support far-away missions, in this season with young kids my wanderlust is usually sadiated through trips across the country. This year, the kids and I (and our new addition) will explore the West coast, from TJ to Vancouver.
Not only will it be an easy intro into international travel for my kids, but this year we are challenging ourselves to love others in a new way while on the road.
Our New Way to Road Trip
You see, when I travel I don't act like how I usually do–extroverted, aware, and more vivaciously alive towards those around me. I focus in us in the van, on keeping us alive and going. It becomes survival of the fittest. Inward focused and mama bear protective.
Last year I felt like at the end of our big roadtrip that there was more to this, and these trips weren't done. Because I hadn't yet learned to love others on the road, let alone model this to my kids.
So, this year, we decided to make our trip from the South to North into an extraordinary quest of kindness.
The Kindness Quest
Megs (the new addition) petitions for us to dub our trip the horribly cheesy name of "Kindness Quest" and has been putting together and integrated plan of action and purpose. The Kindness Quest is now being embraced full-fledged with our god awful tye-dyed t-shirts and kindness cards.
It's going to be rough. We're going to stand out like a sore thumbs (as long as we are "kind" and generous sore thumbs).
Our quest, our mission, it to practice loving others around us with excellence. Seeing them. Living justly in our small circles of road trip influence. Practicing random acts of kindness with intentionality. Listening to stories. Giving free hugs.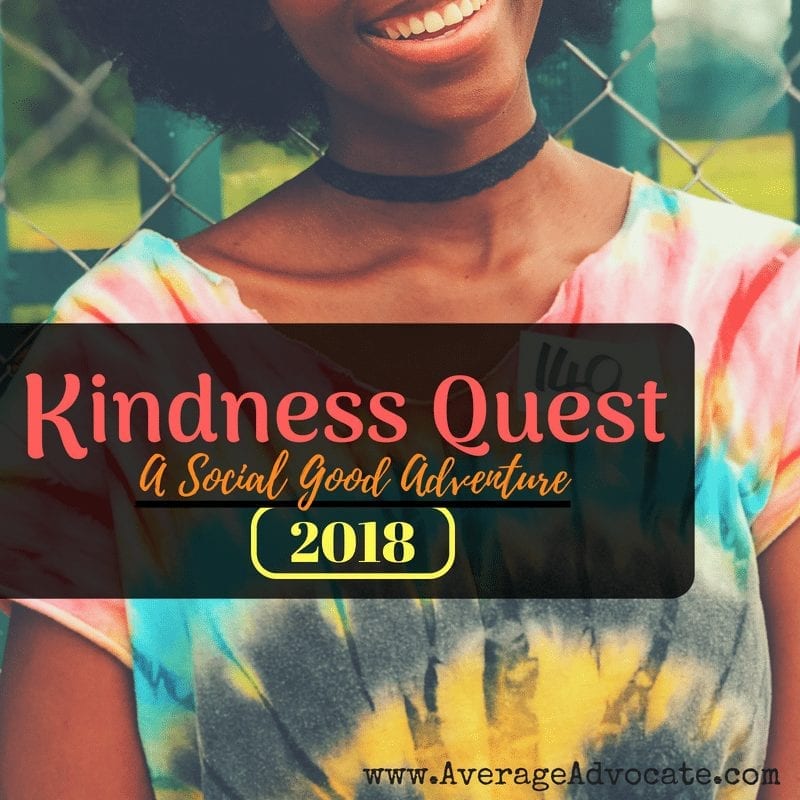 Intimidated By Kindness or Unpredictability?
Truth is, I am nervous. Although we have a pledge, a mission, a goal and a plan . . . it is all a little ridiculously unpredictable. My human nature is just to slide back into self-protective mode, like I typically do in places I am unfamiliar. (Like you can see here in Travel + Big World = Perspective.)
This might seem trivial but it is real. This is the biggest hurdle for most of us everyday world changers: simply managing the unpredictable of what comes out of kind connections with people, surprises, unconditional love. It is intimidating. We might not know how to respond. There might be threats.
Overcoming Fear by Starting Small and Simple
But this fear is something we can overcome, even if just through little bits of surrender and faith. To be the people, the world changers, we want to be, embracing uncomfortability is worth it, no matter how small.
And starting small with acts of kindness is okay! In fact, beginning with simplicity and intentional acts of generosity and kindness is one of the most valuable ways we can train ourselves to see and love others.
It isn't pathetic that this Kindness Quest will require bravery and audacity. I think it is really possible to intentionally use this small fragment of time to change the world, even if it is just to change the world of my kids, helping them see how potent little everyday acts of kindness can be.
Maybe at the end of the Kindness Quest we really will deserve our golden swords (and possibly a trip to Disneyland or some other imaginary fairyland)!
Will You Cheer Our Random Acts of Kindness On With Your Own?
So, in a month or so, I need you to ask me if we completed our mission. Is it really possible to change to make a roadtrip about others and not ourselves? Will we really be able to see people, and change our family culture? Can we train our kids to live justly, humbly, and love mercy as we traverse the edge of our coastline?
I am hoping that whether you go on a road trip, or stay home the rest of the summer, you will also join us in spending a couple weeks practicing random acts of kindness?
What Are Our Random Acts of Kindness?
Beyond passing out "Kindness is Contagious" cards in Powell's Bookstore in Portland and attempting free hugs in Koala (and other cosplay) outfits, what type of random acts of kindness are worth doing?
Well, if you'd like to know, I highly recommend picking up our free printable, 45 Intentional Acts of Kindness because it is awesome, colorful and helpful!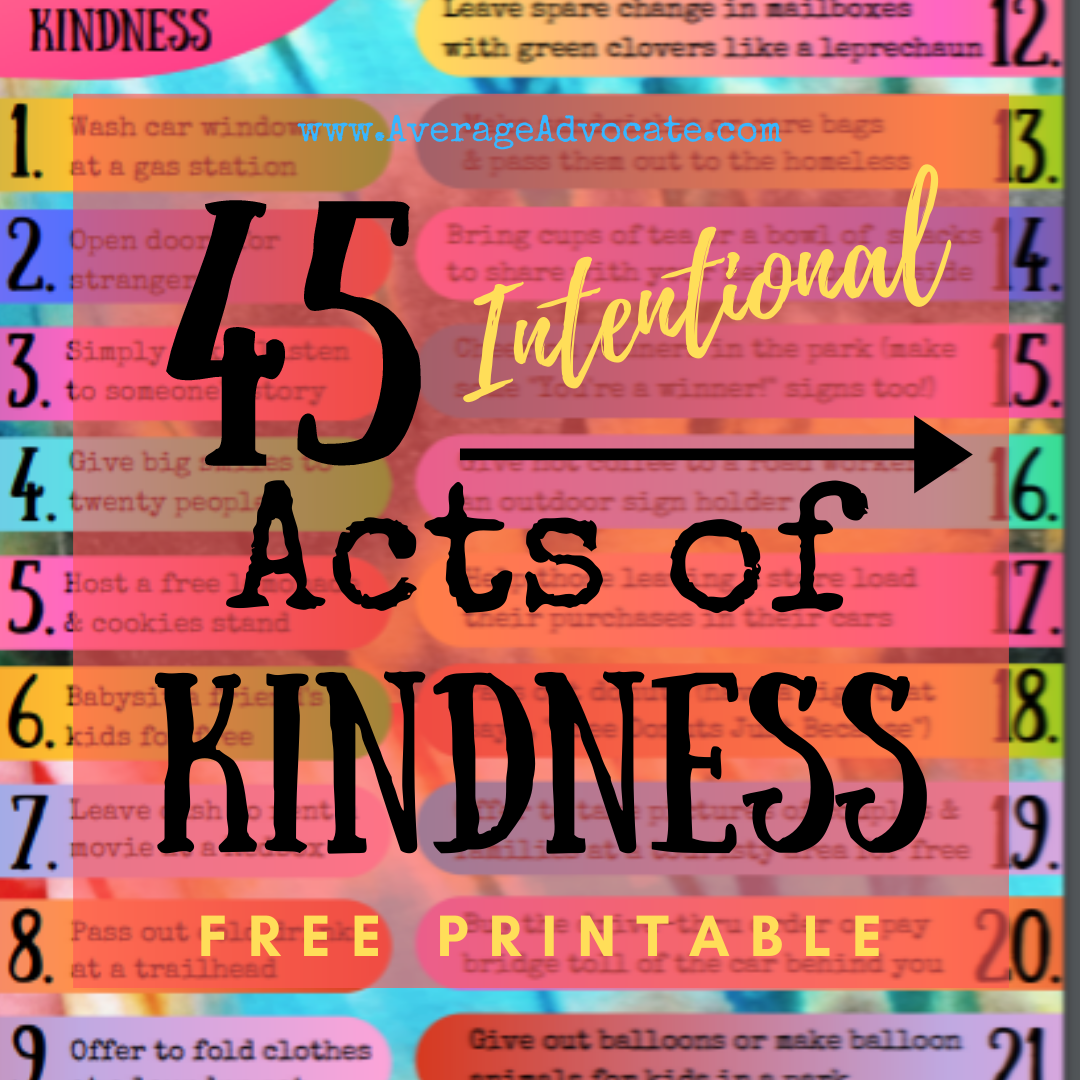 Join us on our Kindness Quest! Follow us on Instagram or Facebook.
(I'd love it if you tagged @AverageAdvocate in a picture of it with the tag #KindnessQuest)
LOOK AT OTHER KINDNESS QUEST POSTS:
THE MOST CHALLENGING RANDOM ACT OF KINDNESS THAT MADE ME LOVE MY ENEMIES #KINDNESSQUEST
THE SEVEN THINGS KEEPING YOU FROM PRACTICING RANDOM ACTS OF KINDNESS
Purpose Roadmap
Live a Story Worth Living
If the idea of "purpose" always seemed a little vague to you or you don't have a lot of time to spare, this is for you!
Purpose Roadmap: Discover A Story Worth Living is a free mini-workbook with seven-destination points to help you intentionally choose what you want to let motivate you in life.