2019 Trafficking in Persons Report
Every year, the global world comes out with a fat book looking at all available data, trends, and facts about human trafficking in the world. On this World Day Against Trafficking in Persons (thanks UN for such a long title), I am going to share with you a 12 point summary of the 2019 Trafficking in Persons Report (also known as TIP).
(Also, don't hate me. This video was vertical for IGTV first of all.)
Major thanks to Just Ask Prevention, who helped me understand this year's report! They are also a partner of our own Blackout Trafficking. If you ever need help training on human trafficking (from businesses, schools, law enforcement, etc…) these are your guys!
If you want to read a full copy of the Trafficking in Persons Report 2019, have at it here. (It is only 538 pages, so no biggie.)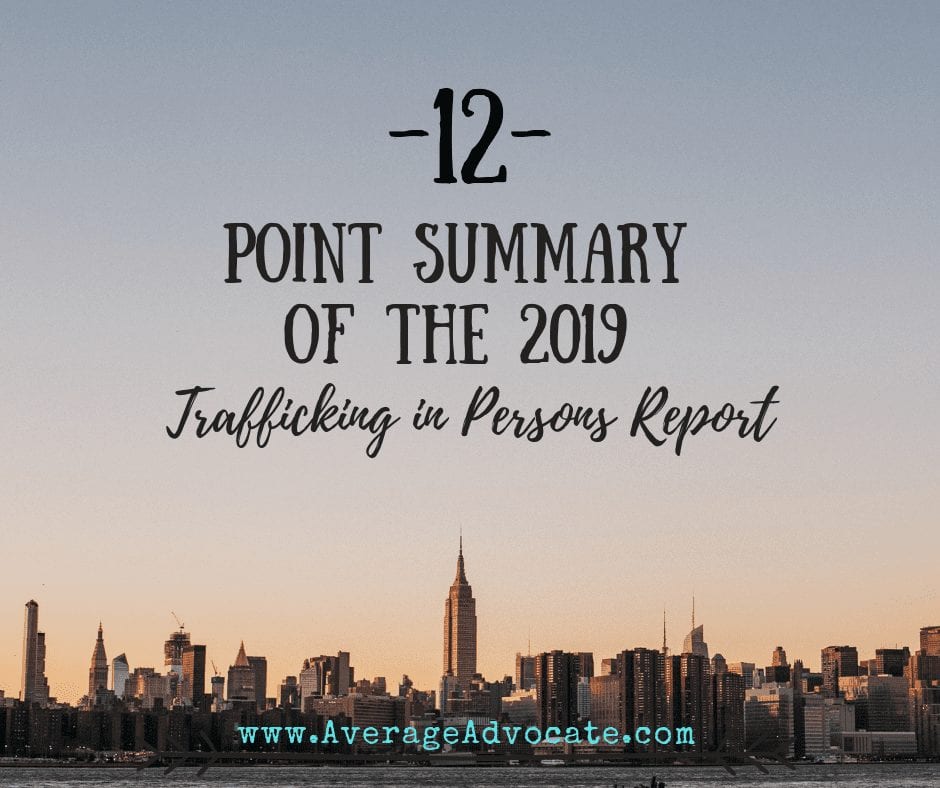 12 Point Quickie Summary of TIP 2019
Don't want to watch the video where I explain these? No prob, here they are without details:
1.) There are 24.9 million trafficking victims in the world right now (or read this post to here me talk about this stat and why no one agrees).
2.) 77% of traffickers stay domestic (meaning they stay in their own country, again helping us dispel the myth that trafficking usually moves accross borders, because it doesn't).
3.) Definitions of trafficking terms have been established.
4.) Much more training is trauma informed and victim centered. Survivors are leading the way to make things better (yay)!
5.) U.S.A. is still Tier 1 (meaning we are doing a lot): Our number of trafficking cases went down this year, but the number of convictions went up.
6.) Governmental orgs are trying to give less access to military equipment to countries that use child soldiers (her is how our family did something about Child Soldiers this past year!)
7.) In the U.S.A., funding up for care for victims has gone up, but immigration opportunities have gone down (for various reasons, that is no bueno).
8.) U.S.A., Mexico, and Philippians top number of human trafficking cases (although we actually have a hotline to report it).
9.) Identification of victims continues to show us that the most vulnerable populations are still those on welfare, immigrants, LGBTQ and runaway/homeless youth.
10.) Social media is the top way sex trafficking is being sold and advertised.
11.) Many countries are starting to realize hotlines are really helpful and are trying to open more.
12.) There are efforts to reduce labor trafficking by putting more of a focus on the global supply chain (such as creating laws for hiring and processes)
What's Your Next Step to Respond to Human Trafficking?
Want to do something about human trafficking? We'll help you out! Click the button below to pick up your 10 Simple Ways to Fight Human Trafficking
Are you a local? If so, you might want to check out this post to grasp what trafficking looks like San Diego.