Do you you want to bring freedom to the exploited right now? Average Advocate empowers ordinary people to change the world, and one of these ways is backing Blackout Trafficking, a non-profit we started to do something about human trafficking.
The Blackout Trafficking team is back at work, preparing for #BOT2021!
Anti-Trafficking Partner Organizations

We'll tell you more about that soon, but right now is the prime time for us to connect with next year's partners. Our question for you is who do YOU want to partner with?
Whose anti-trafficking work do you admire and love? A local non-profit? A small one across the globe?
Each year, Blackout Trafficking partners with small organizations that do anti-trafficking work to serve them and help them fundraise through our March challenge. Please help us get in contact with these organizations you love so we can empower them to bring freedom!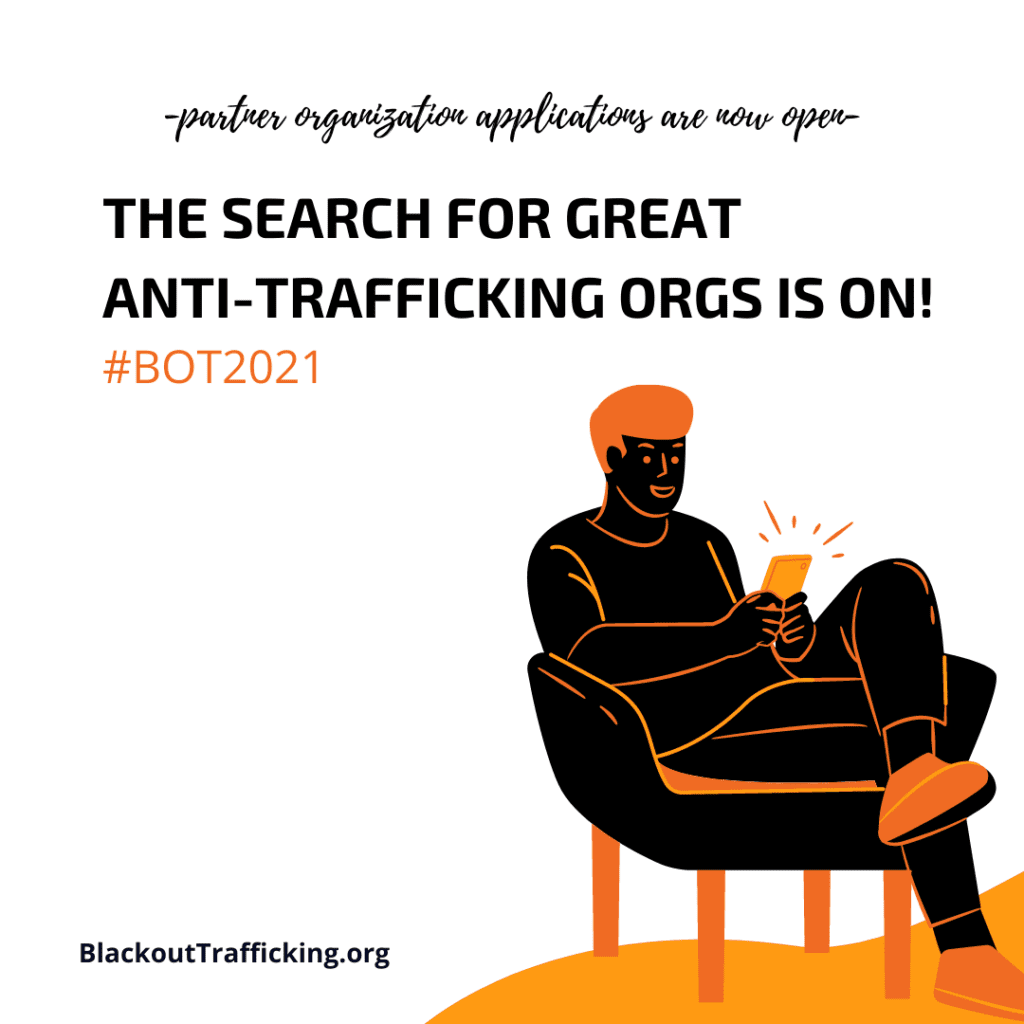 Volunteer With Blackout Trafficking
We do know you guys care about people–especially those who are trafficked, exploited, or are modern day slaves.
We do too!
But, in case you didn't know, Blackout Trafficking is a totally volunteer-run non-profit started by Average Advocate. Volunteer lead? This works for Blackout Trafficking. This works for our partners. This works for you.
But sometimes, we need a little help doing the work. What was it that our grannies used to say? Many hands make the work light?
Now, we can't have too many cooks in the kitchen, but we do need some volunteers. For BOT 2021 to get off the ground, we'd love your help! 
(For example, right now, we are already bringing freedom to the exploited by working with our future partners!)
Learn more about volunteer opportunities here. 
Get the #BOT2021 Ethically-Sourced Shirt for Blackout Trafficking!
Lastly, a way you can help bring freedom NOW (before March) is by pre-ordering one of our T-shirts! We don't ask for donations in March, so these shirts meet our operating expenses for the year. Order here with us!