This is a guest post from my fellow writer, Sarah Butterfield, about still making a difference during COVID-19 through Blackout Trafficking. I was so glad she was able to share her story, because I for one, relate!
[wd_hustle id="6″ type="embedded"/]
---
I met Elisa Johnston at a meetup for local writers. As she shared what she wrote about by way of introduction, I was intrigued. Not only did she write regularly about making a difference, she had also started her own nonprofit dedicated to fight human trafficking.
I invited her to come speak at our local MOPS group in February about how moms can make a difference right where they are. She told us that just by wearing the same black piece of clothing every day in March, we could raise awareness and funds against human trafficking.
Moved by the stories she shared, I went home and registered for Blackout Trafficking. I picked a comfortable black wrap dress from Pact Apparel and indulged in some online thrift shopping for some scarves and cardigans from ThredUp. I also picked a local organization called "Sisters of the Streets" to receive any funds I raised.
On March 1st, I proudly wore my "Ask me why I'm wearing black" button on my dress. The first week of March was pure fun: I had enough tights and sweaters to keep warm. I explained what I was doing to my six and seven year old boys in the simplest of terms. I answered people's questions ("Yes, of course I wash it," and "No, I don't sleep in it!")
During the second week, the novelty of the project wore off. I had to be creative getting dressed in the morning so that I didn't get bored. I started giving myself pep talks in the mornings, reminding myself that I was limiting my freedom in order to bring freedom to others. True to Elisa's predictions, I wanted to burn my dress by the middle of the month.
And then the full force of the pandemic hit California, and our schools and churches closed down, followed shortly by our non-essential businesses. If my motivation was running low before the self-quarantine, it positively plummeted once there was no reason to step outside of my house in my black dress. To make matters worse, all four of us in my family were coughing and generally not feeling well. The temptation to give up and give in was strong. Part of me wanted nothing more than to lay around my pajamas in despair.
But the black dress saved me. Every morning since the beginning of the project, I had made my bed and stood in front of it to take a mirror selfie of the day's outfit for my Instagram stories. The daily habit I had cultivated of getting fully dressed and making my bed in the morning saved me from sinking into Coronavirus despair. It reminded me that healthy routines are sanity-saving.
I stopped wearing my "Ask me why I'm wearing black" button during the third week – there was no one to ask me and it made me sad. Instead, I focused on fundraising through social media. Donations trickled in, boosting my morale a little bit at a time. A friend noticed my black dress on a Zoom call and I nearly wept with gratitude.
In the fourth week, my only way to cope with the monotony of the black dress was to make jokes about it. I opened my closet door wide one morning and asked my six year-old what he thought I should wear.
"Your black dress, duh!" he said, and collapsed into giggles. My oldest told me: "You know nobody is gonna know if you don't wear it, right?" giving voice to a thought I'd had many times before. I took the opportunity to talk to him about the importance of integrity. And then I took my own medicine and put on the dress.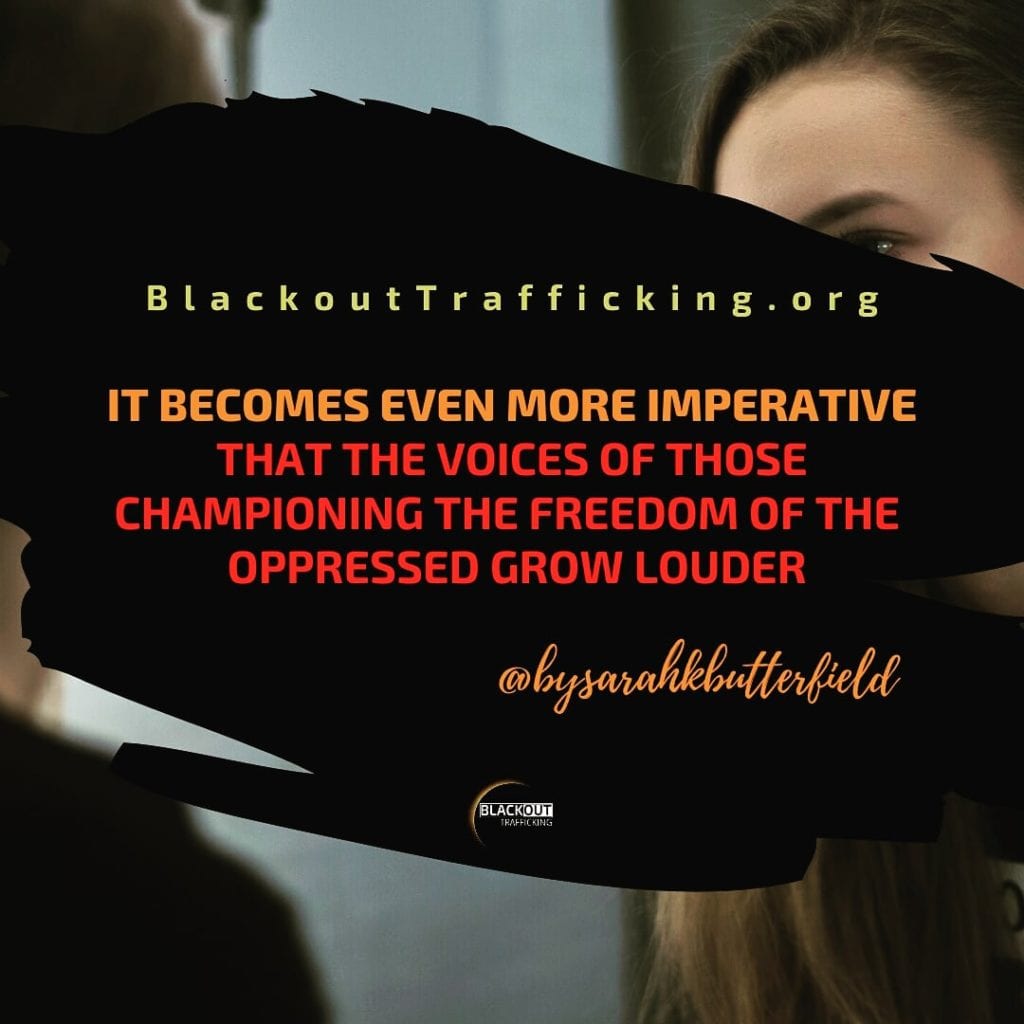 This March, as most of us in the United States experienced unprecedented restrictions on our personal freedom, the Blackout Trafficking project may have gotten lost in the fray. Americans turned inward. As we faced anxiety, uncertainty, and fear over our financial, physical, and mental well-being, it became even more imperative that the voices of those championing the freedom of the oppressed grow louder. It's too easy to retreat into self-preservation during times of crisis.
I'm so thankful that I took the opportunity to join the chorus of voices from the Blackout Trafficking project to bring awareness and justice to those caught in the snares of modern day slavery.
On the last day of March, as I put on my black dress with a sigh of relief, I wanted to run victory laps around my neighborhood. I had so much to celebrate: I finished strong. I met my fundraising goal. I didn't give up. Most importantly: I made a difference.
And you can, too!
---
Sarah K. Butterfield is a missionary kid from France who currently makes her home in San Diego. As a women's ministry leader and writer, she is passionate about helping women live out their kingdom calling by pursuing missional moments in the everyday. You can follow her blog at sarahkbutterfield.com or on Instagram or Facebook.
Related Links on Blackout Trafficking:
Learn more about Blackout Trafficking here.
The Ordinary and Extraordinary Little Black Dress
Human Trafficking Meets COVID-19