The Weight of Expectation
Once upon a time my husband didn't give me a Christmas present, but after the holiday he brought me to the mall. He told me just to meander, walk around, pointing out what I liked. It was rather annoying because I would say "yes, yes, yes, I want this!" But he told me he would to choose what to give me, because he was the giver. It turned-out that it was actually fun and I also managed to received what I liked, even if I might not have put those things near the top of my list.
I almost feel like it is the right of the gift-giver to be generous how they desire to be.
This topic in mind, I was discussing something I haven't figured out the other day with my friends–should you buy Christmas presents for someone regardless of whether it is something that person needs? Or even particularly wants? Especially if they might even be indifferent? I mean, I can always buy a friend smelly lotion, chocolate confections, or an everyday popcorn maker. But even if it would be fun to play with a popcorn maker a few times, does that mean I should actually get one for someone? Should I spend money on nice gifts (or maybe just plain crap) just because of Christmas gifting expectations? Is that throwing money down the toilet? Or is there still substantial value in it?
I generally think this can only be decided on a case-by-case basis, but my point is that expectations are often the major drive in giving and receiving gifts. What I do think is important, though, is actually taking the time to process if there are other ways to love, especially when you can't find that perfect thing.
Advent Conspiracy
I am a big fan of the Advent Conspiracy because I really believe we don't need to be huge consumers–if just a minuscule fraction the 600+ billion spent on holidays in the USA was instead given, we could solve the global water crisis and extreme poverty! Watch the two-minute video below to learn more:

This is my train of thought:
Sometimes we buy Christmas presents that people don't need or want
We buy not perfect gifts out of love for the receiver
Because we love the receiver we want to meet their expectations (or supposed expectations)
It might be possible to lovingly meet these hopes and expectations in another way
Overall an insane amount of money is spent on Christmas
There is an immense and urgent global need for people to care for the poor and stand against injustice
Conclusion: Instead of spending Christmas money on presents people might not even want, we could redirect Christmas money in a way that could change the world
Charity Action Ideas: The Gift Catalog
So, let's just say we want to do something different–how can we give Christmas presents to those we love while simultaneously giving to end poverty? Although there are many other options, today I am highlighting Christmas Gift Catalogs.
Every November my mailbox gets overwhelmed with gift catalogs. Not the ones where people buy stuff from, but gift catalogs where you choose an item, such as a pig, and then you buy it. Then, that hog is donated to someone in need and you get a card or token item to wrap for the one you bought the pig in honor of.  Once we gave away fifteen chickens or so to a friend and gave them 15 cut-out chickens to match.  Point is, it is good to give to someone who already has things.
Truth be told, I have received these a few times. Once someone donated some type of fowl in my honor, another time a Bible, and once it was school supplies to educate a child. In two of these cases it was nice, exciting even to know someone's life was being changed because they were given my present.   But I confess, one time I had different expectations and I was semi-disappointed at first, wishing I was given something tangible and fun. But, in retrospect, I have no doubt that whatever else I could have been given would both be trashed and forgotten. But this was remembered and it's effect still lasts.
Although some great organizations like World Vision, Compassion International, Samaritan's Purse (to name a few) also have these catalogs, I received a nice stack of them from World Help.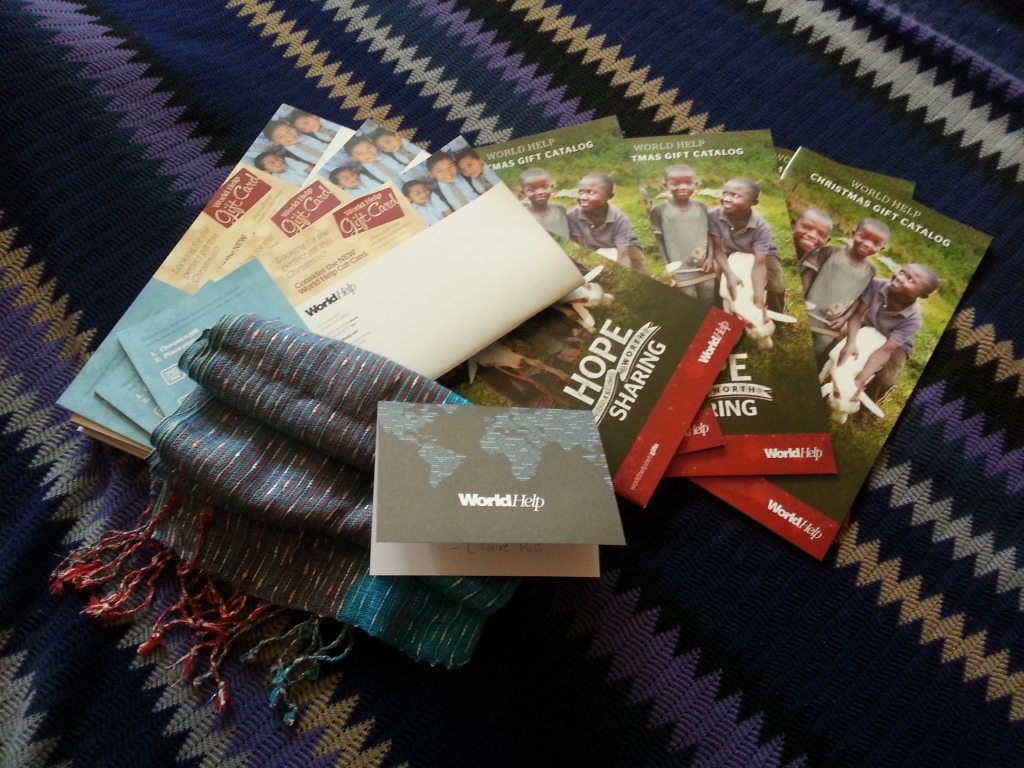 I just strikingly posed for you to demonstrate that if you order from a World Help Gift Catalog, you too will be an exceedingly awesome trendsetter and exceptionally lovely (although probably–and thankfully so–internally).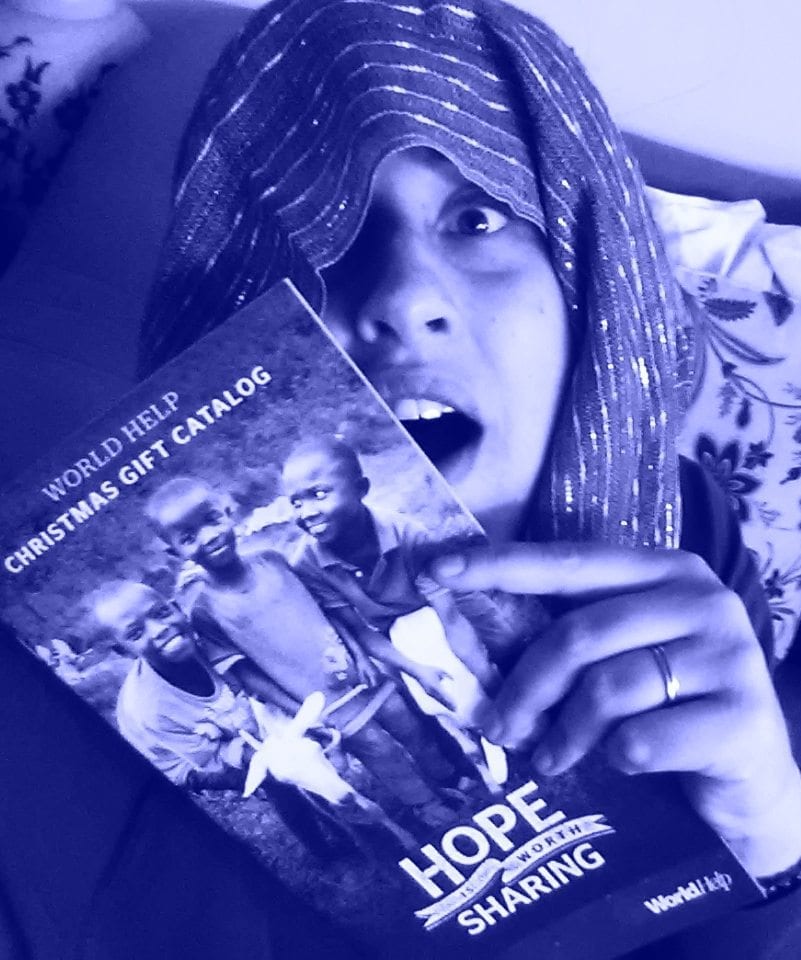 Considering this is an easy way to make a difference, I challenge you to buy just one less typical present this year, instead helping someone in need by giving a present from the World Help Gift Catalog.
Also, stay tuned in a couple days to hear about how to buy presents made by survivors of trafficking!
---
If you do buy a present of the sort, let us know what it is in the comments below–even if it is for and through a different organization than World Help! 
---
Related Posts:
Intervention: Beyond a Christmas Story
Art of Advocacy: Being Thankful Even When I've Never Been Without
Action: Give a Meaningful Gift This Christmas
Action: Operation Christmas Child Box