The Struggle of Postpartum Depression and Anxiety: Honesty
I'm not a good liar, but somehow I still manage to deceive myself.
Being honest to ourselves, in safe community, and before God is one of those key elements of being fully alive while we change the world.
This week I stayed offline and tried to get honest when I wasn't too sleep-deprived. Over here I'm struggling with PMADs (perinatal mood and anxiety disorders) & the challenges of the last six months are catching up to me. Beginning to address that honestly is going to be a life-saver.
Not sure where to start in being honest to yourself?
Simple: Just ask yourself "why" the next time you feel a negative emotion…explore it by following it with another "why," and another "why," and an occasional "is that true?" You just might discover some truth. Good luck!
Next Steps: Postpartum Therapy
Today I did something big that I'm excited about!
After a couple months of searching, I finally found a new therapist who takes my insurance, doesn't have a massive waiting list, and is being trained in postpartum support therapy.
Of course, I immediately started crying, just during the basic overview. She asked how I was a few minutes later, concerned.
"Relieved. Everything from the past six months feels so tight and twisted up. I am just so grateful to find someone with whom to begin unraveling."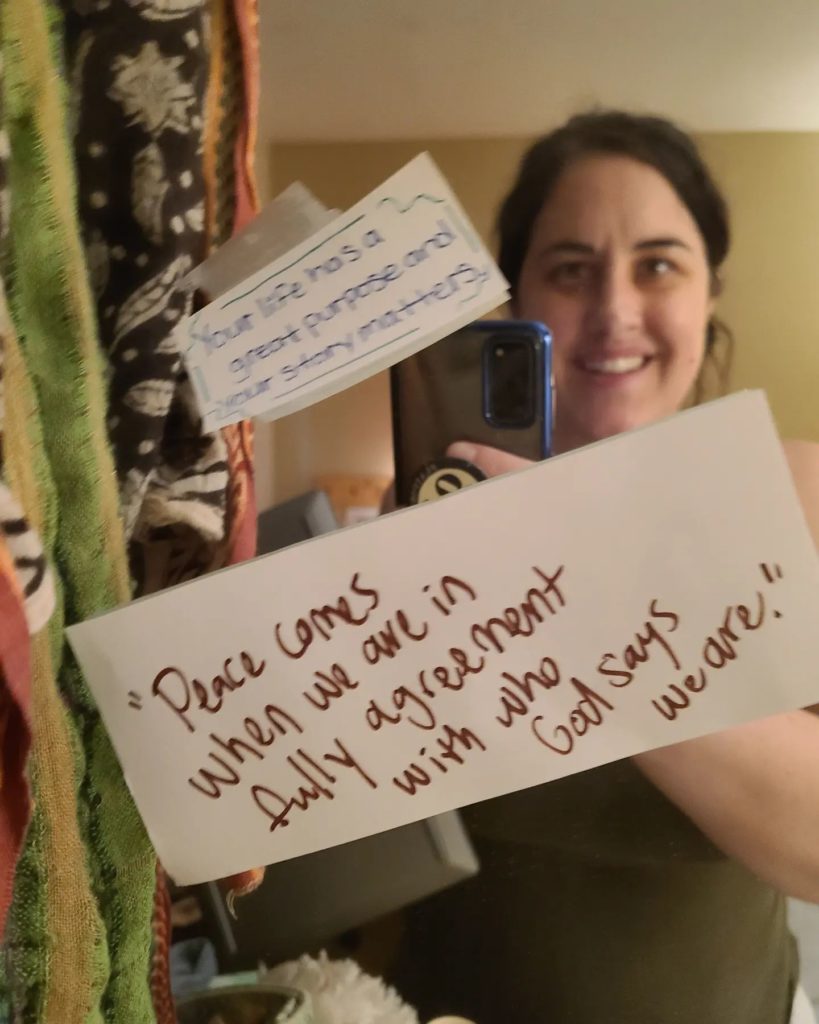 Honestly, it has been awhile coming. I haven't allowed myself to process most things regarding lupus and pregnancy. After doing a few evaluations, I am being treated for PTSD, which makes sense considering everything I have gone through and am still going through. As someone who teaches others about trauma and how to be more trauma informed, lets just say it is weird to see the symptoms in yourself!
I am a firm believer in healing. We changemakers are always trying to make a difference in the world. But as I always talk about here, doing doesn't give us worth, nor can we do so sustainably be advocates without burning out unless we are able to firmly be and be filled. But being and being filled before giving is pretty challenging when trauma gets in the way. Whether it is big trauma or little, hurt, grief, pain, suffering, neglect, abandonment…overtime we wrack-up "stuff" that keeps us from whole. These big and little things add up like weights until we address them. And they must be addressed if we are going to be fully alive and make the difference in the world we are designed to bring.
When it is PTSD, it feels impossible to ignore. Everything feels so raw and then the triggers come. For me, there are phone calls with doctors, driving by the hospital, new sicknesses, or bleeding in the middle of the night. My body and mind react in unreasonable ways. It makes sense that I am this way after everything I've gone through. But the truth is that I don't have to live like this forever. Graciously, I am finding space to heal.
And I am needing space to heal before I pour out too much in this season. I don't have to change the world today. This is okay, good even.
After burning-out before, I know this is vital. My friends, family, journaling and definitely the Spirit of God (who I ask to lead this whole process) are also huge parts of healing. But today I am so very thankful for a guide as I heal from medical postpartum PTSD, a therapist.
Other Posts in Lupus and Pregnancy Series
#NOHUSTLENOVEMBER AND SYSTEMIC LUPUS #1
NOT THE BABY ANNOUNCEMENT I PLANNED (LUPUS #2)
LEADERSHIP THAT LET'S YOU REST: #NOHUSTLEVEMBER (LUPUS IN PREGNANCY #3)
#NOHUSTLEVEMBER AND PRODUCTIVITY: PREGNANCY IN LUPUS UPDATE #4
WHY REACHING 20 WEEKS IS A BIG DEAL! LUPUS IN PREGNANCY UPDATE #5
WHERE IN THE STORY? LUPUS IN PREGNANCY UPDATE #6
POEM: I HATE THIS (LUPUS AND PREGNANCY UPDATE #7)
POEM: IN BETWEEN (LUPUS AND PREGNANCY #8)
My New Job: Lupus in Pregnancy #9
WAITING: Lupus and Pregnancy #10
Living With an Invisible Illness #11
Healing From Postpartum Depression, Anxiety, and PTSD #12
Or follow the rest here: Lupus and Chronic Illness