Intentional Acts of Kindness Checklist
Can you do them all?!
If you need ideas to help you start doing spectacularly little--and yet kind--actions that make a difference, this is for you. 
Family Summer Challenge Checklist
Checklists? I love 'em!
5 Phases of Rising Up
Ready to rise up? See where you are on the journey and find your next step.
Now, I could talk about fireworks and freedom, diversity and beauty, or even making a difference in our homes by leading our families.
I'm don't feel like making a wise point, though. I just like colors and smearing paint. This summer, we have a massive list of family challenges to complete to keep us together and make us feel like we accomplished something. This is one of them and we did it! (The art!)
If you want your own copy, just put in your email in the box at the beginning or end of this blog post and it shall be sent to you, but the amazing robots of the inter-web! (But then you can personally tell me what you added to YOUR own family challenge to make it more awesome and perfect for your peoples.)
Family Summer Challenges
I was't going to share our Summer Family Challenges though, as it didn't seem like it was too much about changing the world. And then I remembered living intentionally in our homes and with our kids is making a difference in the world! (However, not all of my family's ended up on the list–I took out some more of the personal ones we were doing before I designed and uploaded it.)
So far, the most fun Family Challenge we've done on our list is catching a crab. But this one, of hair dye was the most crazy and messy. It looked like blood was everywhere and the color didn't even stick! My fingers still look like bloody crescents.
Kids Character Challenge
Speaking of family challenges, if you want a  unique set of challenges geared for parents and kids to help you raise world changers, the
Kids Character Challenge
is currently on sale for $4.99 at the Average Advocate store through Friday (07.1.2020). These weekly actions and mantras are simple ways to teach your kids to love others and live justly. Go grab a copy. I think it will make you feel empowered!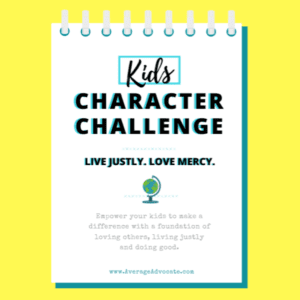 Family Summer Challenge Checklist
Checklists? I love 'em!
Purpose Roadmap
Live a Story Worth Living
If the idea of "purpose" always seemed a little vague to you or you don't have a lot of time to spare, this is for you!
Purpose Roadmap: Discover A Story Worth Living is a free mini-workbook with seven-destination points to help you intentionally choose what you want to let motivate you in life.