Can an everyday person make a difference for refugees? Yep. They can! Just as I've seen it happen time and time again with everyday people doing something about human trafficking, I am happy to say everyday people can also help refugees.
Last year I was thinking about the global refugee crisis, frustrated that I didn't feel like I could do anything. But I remembered feeling like that before, with human trafficking. But I've started two human trafficking organizations and have done a lot to help everyday people do something about this issue. So I started adding it up the little things I've done to help refugees. Turns out out I've been helping all along, I just needed to re-frame my advocacy a little.
I want you to head over to read this short article at Women of Welcome, who shared this story. (And guess what? My kids also have been able do something about refugees.)
In addition, I am happy to say I have a giveaway going on just through this weekend! I am giving away these fairly traded, artisan earrings from Women of Welcome. Also, there is a candle from Light Shine Candles (a social enterprise helping in the "Golden Triangle" region of Central America, where lots of refugees come from, and the woman who makes them also works with refugees and immigrants locally).
Lastly, my friend Sarah B. Butterfield's book came out this week! She's posted here before as everyday person making a difference for human trafficking (during a pandemic!). I'm giving away a copy of her new book, Around the Clock Mom, which is a great coaching, productivity, and home management resource (especially if you are a new mom). Tag someone in the Instagram post to enter (or just a friend who might like these three items!)
She also has a free bundle of home management tools (including a great household value chart, which can help your family be world changers!). These are on her website here.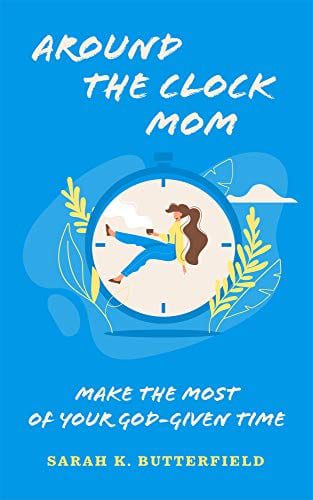 ENTER THE GIVEAWAY FOR THESE THREE THINGS HERE!
Blackout Trafficking is Also Empowering Us To Bring Freedom to Refugees
I also wanted to let you know that one of our Blackout Trafficking orgs this year, for #BOT2021 is empowering exploited girls who are refugees and migrants. They are tying together two things I am passionate about, human trafficking and the refugee crisis!
Learn more about how Blackout Trafficking and sign-up soon for our challenge in March. If you are interested in this, Faith, Hope and Love Project is the organization that is on the border of San Diego and Tijuana helping sexually exploited girls and women discover a home with community, learning skills, and recover. Learn more about them here.
What are everyday ways you've made a difference to bring freedom to those trafficked, or for refugees? Let me know in the comments! Or give me ideas on how you might like to!

Actions You Can Take: